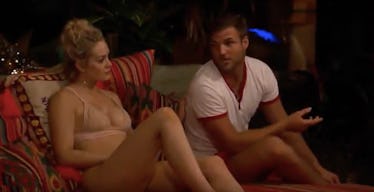 Here's Everything We Know About Jordan & Jenna's Immediate 'Paradise' Relationship
ABC
Talk about love at first sight, Bachelor in Paradise style. Jenna Cooper, a short-lived contestant on Arie's season of The Bachelor, entered the BIP scene on Tuesday, Aug. 14's episode and completely changed the game... and potentially, Jordan's life. The outgoing cotton candy-tinted haired social media manager (who refers to herself as a "nice, happy alien") immediately caught the male model's eye and they went on a date that showed them connecting in a major way. So, are Jordan and Jenna dating after Paradise? Judging from the flying sparks between them, it's entirely possible the pair is going strong post-filming.
"She's a rockstar. She's coming in here hot," Jordan gushed about Jenna after they hit it off.
Jordan has shown Bachelor Nation a range of emotions ("pensive gentleman," anyone?), but I'm not sure viewers have ever seen him this giddy. He and Jenna chit-chatted about each other and appeared to be instant kindred spirits — they both care about the power of brows, by the way — and they decided to go on a date. What transpired was honestly a very cute display of budding romance. Jordan and Jenna cavorted on the sand and horsed around on, well, horses. They both enjoyed each other's company and it looked as though they were free to be their goofy selves.
"Jenna's got the potential to take me off the market," Jordan admitted.
"This is what I came here for!" he also declared in genuine delight.
Jenna seemed to reciprocate Jordan's excitement, splashing and smooching in the Mexico waves with a huge grin on her face. Ah, new love! But will it last?
Jordan has already confirmed that the Bachelor in Paradise journey worked in his romantic favor.
"I do find someone for me in Paradise," he told the Citrus County Chronicle prior to the show's premiere. "It ends on a very good note."
Bachelor Nation speculated that Jordan would get cozy with another franchise "villain" like Krystal — there's still time! — but it's starting to seem as if Jenna and Jordan truly have something special going on. Jenna hasn't divulged much on her Paradise experience, but she did tweet throughout her introductory episode, even writing "Omg My heart" — is she referring to her feelings for Jordan?
She also retweeted some Bachelor Nation (and Bachelor insider) thoughts on the match-up.
Bachelor in Paradise is only coming off its third episode, so hurdles are bound to come in this blooming relationship's way. David, Jordan's rival on Becca's season, swooped in for a little flirting sesh with Jenna on Tuesday's ep... and let's just say that Jordan didn't take it well. Promos hint at a model meltdown on the horizon, so hopefully he and Jenna can work past whatever comes between them.
"In Paradise, you get to see the other side, the actual human being I am," Jordan has teased about his stint on the show. "I'm not really obsessed with myself."
I'm liking the softer, googly-eyed version of Jordan — Jenna obviously brings that out in him. Unless David's in the vacinity... Bachelor Nation is rooting for you two!
Bachelor in Paradise airs Monday and Tuesday nights on ABC.