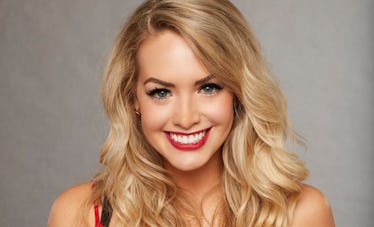 Bachelor Nation Is Seriously Rooting For This New 'Paradise' Couple
ABC/CRAIG SJODIN
Jenna made a surprise appearance on Bachelor in Paradise. And she took Jordan on a romantic date on the beach. Naturally, Bachelor Nation has a whole lot to say about it. These tweets about Jenna and Jordan on Paradise prove that everyone is really rooting for them to last a while!
Jenna took Jordan for an afternoon of horse riding down at the beach and they seemed to have the best time ever. Jenna and Jordan really hit it off right away and there was a lot of chemistry between them. It was so palpable that even Jordan couldn't contain himself.
Honestly, from the moment Jenna walked onto the beach, Jordan couldn't keep his eyes off her, nor could he keep her name out of his mouth. And when he wasn't talking about Jenna, he was basically stunned into silence. That's how much he's into her.
Unfortunately, this potential new relationship came at a price. With Jenna now in the picture, Jordan had to forego his budding relationship with Annaliese. And it didn't exactly end well.
Although Jordan was a gentleman enough to have a serious talk with Annaliese, he wasn't exactly gentlemanly about it. He essentially told her that Jenna had his heart (and his rose) and that she was just a backup.
But that's not stopping Bachelor Nation from showing their love for the Jenna-Jordan union. They're all about it.
Here's what fans are saying about this new romantic pairing so far:
So, basically, Jenna's arrival has stirred up Bachelor Nation quite a bit. It's also caused a bit of drama in paradise given how heartbroken Annaliese seems to be. But Jordan seems genuinely smitten with Jenna and it's a relationship that fans are really hoping works out.
Jordan even admitted that seeing Jenna was basically "love at first sight", so it's pretty serious already. At least for Jordan, it is, anyway.
Besides the Annaliese drama, there was also someone else threatening to muddy the waters: David. He essentially snuck up on Jenna to bid her a happy birthday (cake and all!) and Jordan walked in on them having a cozy, little chat. Yikes!
Fans have things to say about this David-Jenna-Jordan drama, too:
It definitely looks like there's a love triangle on the horizon. And Jordan was definitely not happy that David is moving in on his girl. Jenna seemed totally unbothered by the tension between the two guys.
"He seemed really nice," Jenna said in defense of David's sudden appearance. Jordan, of course, was trash talking David, but Jenna didn't seem like she needed to clarify the interaction.
To further prove his worth, Jordan decided to take the cake David gifted Jenna and toss it into the ocean. It's really clear that David and Jordan can't stand each other. So, I guess Bachelor Nation will have to stay tuned and see how this all pans out.
But if there's trouble in paradise for Jordan and Jenna already, then it can't be good news for the long haul. Hopefully, I'm wrong!