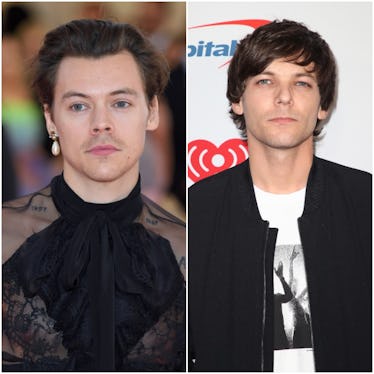 Here's How 1D's Harry & Louis' Friendship Has Really Changed Over The Years
Since One Direction went their separate ways in December 2015, the dynamic between the boys has gotten increasingly complicated. Questions constantly swirl about where the friendships among Harry Styles, Louis Tomlinson, Zayn Malik, Niall Horan, and Liam Payne stand years after the group split up. While Malik is known to be on the outs with his former bandmates, other members are clearly still close, or at least cordial. The question of whether Harry Styles and Louis Tomlinson are still friends remains largely up in the air.
Styles and Tomlinson were once two of the closest pals in One Direction, but as of 2021, their friendship seems to be somewhat non-existent. Tomlinson still follows his former bandmate on Instagram, but Styles can't say the same. A quick search through Styles' "following" list reveals Tomlinson's name isn't on it. (Although, it should be noted Malik, Horan, and Payne aren't on there either.)
Then again, who follows who isn't always the best indicator of how people actually feel about each other IRL. For example, Styles showed support for Tomlinson in December 2016 after Tomlinson's mother died. He, along with Horan and Payne, reunited with Tomlinson backstage at the X-Factor after he delivered an emotional performance of his debut solo single, "Just Hold On."
However in 2017, Tomlinson opened up about how gossip he and Styles were dating affected their once-tight-knit friendship. "It kind of happened naturally for me and Harry because a certain amount of the fans drew up this conspiracy," Tomlinson said in an interview with The Sun. "When it first came around I was with Eleanor, and it actually felt a little bit disrespectful to Eleanor, who is my girlfriend now. I'm so protective over things like that, about the people I love."
Tomlinson further explained: "It created this atmosphere between the two of us where everyone was looking into everything we did. It took away the vibe you get off anyone. It made everything, I think on both fences, a little bit more unapproachable."
In May 2019, Tomlinson told Hits Radio Breakfast that he had "not seen Harry for a while" but had "been in contact with him." He added: "It's proper nice. Proper nice." And, though the Larry Stylinson conspiracy theories ultimately upset Tomlinson, he says he has no hard feelings against his bandmate. "We're not texting each other every day, but what we do have, which will never go away, is this real brothership," Tomlinson told The Guardian in September 2019. "We've had these experiences that no one else can relate to."
In December 2019, when Tomlinson publicly supported Payne's new music, but did not do the same for Styles, Directioners wondered if there was beef between the former bandmates.
One fan chimed in to ask, "What about harry? And Niall?" which caught Tomlinson's attention.
Tomlinson shut down any suspicion there was drama between him and Styles real quick. "Defo sending love to them just wanted to make a fuss of Liam for his first album," Tomlinson replied.
Ahead of One Direction's 10-year anniversary, Payne revealed the guys had all been in contact and were planning on something special together for the big day in July. "We've got a 10-year anniversary coming up so we've all been speaking together a lot over the last few weeks which has been really nice," Payne told The Sun in April 2020. "There's a number of different things that we are all working on to try and make happen and people are forwarding emails around. But more than anything it's just been a real good time for us to connect together again."
When the group's anniversary finally came on July 23, 2020, Tomlinson used the opportunity to hit back at any rumors he had beef with anyone. He tweeted, "Feeling pretty emotional today. 10 years!! Spent the morning watching old interviews and performances. Just wanted to send a massive thank you to ALL of my band mates. What we did together was incredible." The fact that he emphasized "all" hinted he looked back at his memories with his former bandmates fondly, despite everything that happened between them.
Styles, who rarely posts to social media, even wrote an emotional post for the group's anniversary as well. "I've been struggling to put into words how grateful I am for everything that's happened over the last ten years. I've seen things and places that I'd only ever dreamt of when I was growing up," the singer wrote on Instagram. "I've had the pleasure of meeting and working with some of the most incredible people, and gained friendships that I know I will treasure for the rest of my life."
After thanking fans for all their support through the years, Styles gave Horan, Payne, Malik, and Tomlinson a shoutout. "And finally.. to the boys, I love you so much, and I couldn't be prouder of everything we achieved together. Here's to ten. H," Styles continued. He even posted a picture of the five embracing on stage.
While Styles was reportedly spotted out hiking with Horan recently, it's been quite some time since he's been seen hanging with Tomlinson. Due to the coronavirus, the guys didn't end up reuniting in person, but judging by their anniversary posts, they all seem to be on good terms, including Styles and Tomlinson.
This article was originally published on