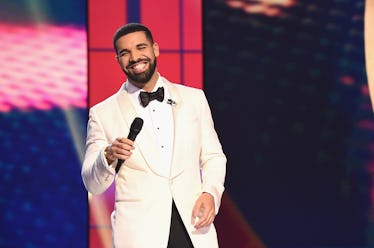 Fans Think Drake Is Rekindling With An Ex Because Of This Video From The Golden Globes
Michael Loccisano/Getty Images Entertainment/Getty Images
Do you have a girl crush on Zoë Kravitz? Are you low-key into Drake? What about the two of them... together? Could we think of two more beautiful people being a pair? (The answer, by the way, is no.) A few years ago, we heard some rumors that the Big Little Lies actress and the "Hotline Bling" singer might be cuddling up together. Since then, we've seen them both go about their own lives and dating other people (bummer). But now, it looks like we might be seeing some sparks flying between the two once more (yas!). Zoë and Drake were seen *canoodling* at Netflix's Golden Globes party on Jan. 7, making many people beg the question, "Are Drake and Zoë Kravitz dating?"
And, while I wish I could say definitively that yes, these two are totally together, things are a little bit murky.
Let's investigate.
The Golden Globes took place on Sunday, Jan. 7, and it was there that we spotted Zoë Kravitz looking absolutely flawless (as she does). But we're going to fast forward to the Golden Globes after party, because that's where the real fun starts.
Apparently, their history together was evident by others in attendance at Netflix's Golden Globes party, and a video from TMZ shows that they got pretty up close and personal with each other, linking arms at one point and, at another point in the night, the video shows Kravitz dancing super close to Drake as he was behind the turntables playing music:
Hm, so maybe these two are becoming a thing again, after rumored to have been dating back in 2013?
Welllll.
See, the thing is, Zoë Kravitz has been dating actor Karl Glusman since the fall of 2016. You might know Glusman from starring in the head-turning film, Love, where the sex scenes weren't always simply "acted" out, but actually performed. Talk about intense.
But their relationship, which has been going on for over a year now, is seemingly pretty strong regardless. Just last week, Kravitz wished Glusman a happy birthday on Instagram, writing, "My guy. I love you. Happy birthday baby."
She posted this super adorable picture of the two of them:
So, what gives? Is she still with her main man Karl Glusman? Or is she hanging out with Drake?
In the past, Kravitz has been very cryptic about her rumored relationship with Drake. When she appeared on Watch What Happens Live back in June of 2017, a caller asked the question of whether or not she and Drake ever dated. She responded, saying,
We hung out for a minute. But we are very good friends. You know.
Host Andy Cohen then insinuated that her "hanging out" might mean more than just, you know, hanging out. Wink wink, nudge nudge.
Kravitz laughed and said,
We hung out a little bit. You know, it's like how I hang out, I don't know how you hang out... He's a cutie!
To which Cohen replied, "Well, if I hang out with Drake I know what I'd be doing with him."
Honestly, Andy? Same.
Now that there's footage of Drake and Kravitz possibly rekindling their romance, the internet has some feelings. Some were totally here for it:
While some others were less than pleased, arguing that Zoë Kravitz is way out of Drake's league:
Ouch. It's true that she is a gorgeous badass angel though, if we're being honest.
So, will we ever know for sure whether or not Zoë Kravitz and Karl Glusman are out, and she and Drake are in? Looks like we'll just have to wait this one out and see.