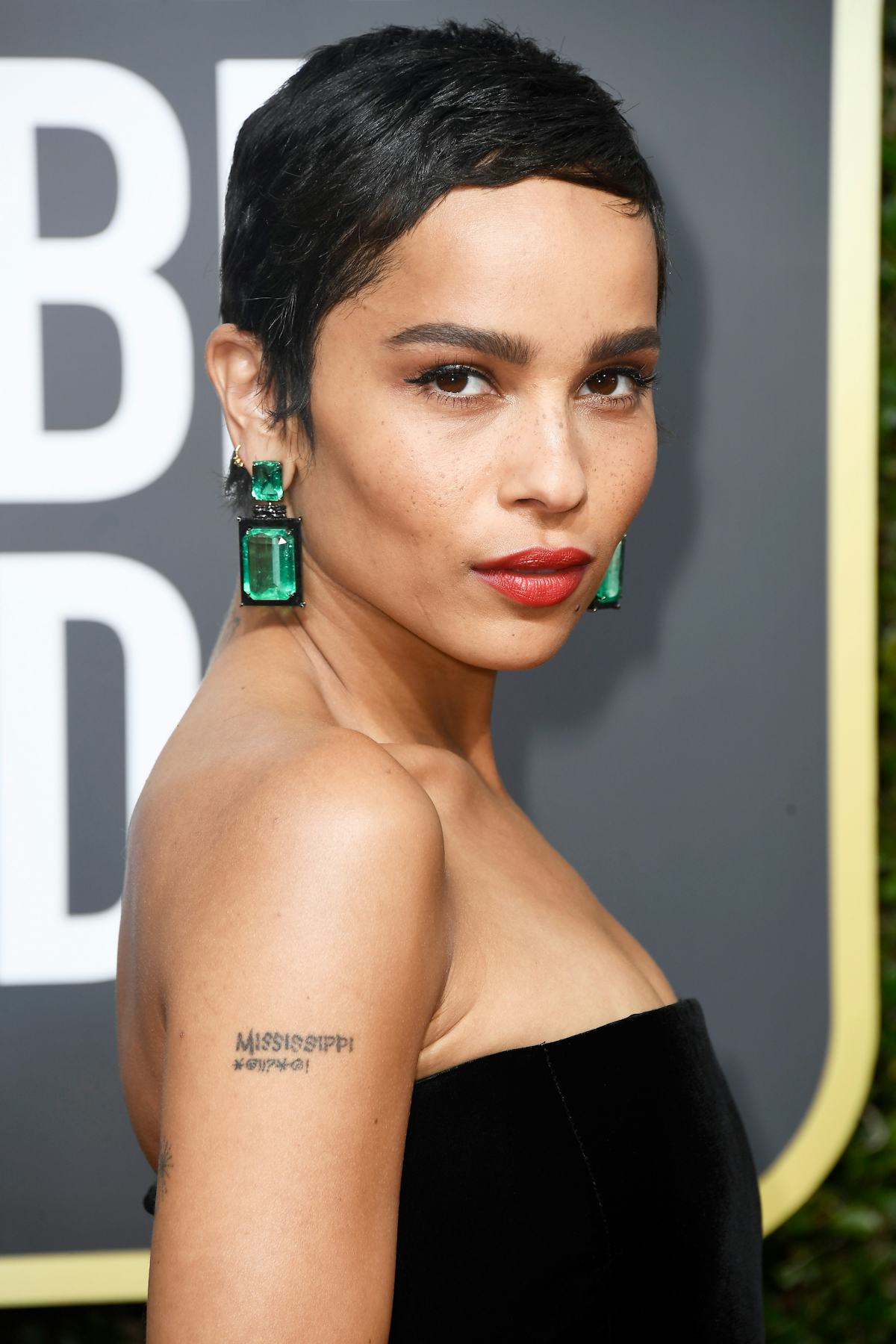 Zoe Kravitz's Golden Globes Look Features The Most Jaw-Dropping Accessories
Frazer Harrison/Getty Images Entertainment/Getty Images
If I was to dub a cool girl of all cool girls in regard to style, it would be this chick right here. Zoë's Kravitz's 2018 Golden Globes dress alone proves why she is the ultimate sartorial queen but yes, I will continue to make my case, thank you very much. She's edgy, fearless, and gorgeous to boot, and I cannot get enough of her '90s-meets-I-don't-even-know style.
Admittedly, I didn't really know of Kravitz until she appeared as Christina in The Divergent films starting in 2015. Of course, I knew she was the daughter of Lenny Kravitz and Lisa Bonet, but I hadn't remembered seeing her in anything before. (She's been in tons, I just wasn't cool enough to have watched it.) Anyways, once I saw her stunningly freckled face holding her own against Shailene Woodley I was like, Yes! I've found my new girl crush! So I began researching photos of her and lo and behold, she also happened to have the most badass style I had ever seen. She straight-up rules.
Kravitz, who has since starred in Rough Night and Big Little Lies, knows how to draw her own line that connects elegant and grungy, edgy and refined in such a way that's impossible to copy. She's just as much of a Saint Laurent girl under Hedi Slimane's rule as is she is a present day Dior beauty.
In a 2016 Teen Vogue interview between Kravitz and her designer friend Alexander Wang, to whom she is a muse, Kravitz said:
People are shocked that I know so little about designers. I know the big ones because my grandmother wore them or they've been around forever. I know you because you're my best friend, but I don't know much about the fashion world except for when I like something, I like it.
Wang replied, "One time I saw that picture of you and said, 'Oh, my God, Zoë, who made that bag?' And you said, 'Oh, that was a brown paper bag that I rolled up from lunch and threw my wallet in.' It was great. And once I asked, 'Zoë, what are those shoes?' And you said, 'Oh, I cut them because they didn't fit.'"
Clearly, Kravitz doesn't play by high fashion's typical playbook. She wears what she is feeling and isn't constrained by designer labels or currents trends.
This sense of dressing to her personality completely shines through. Take a look at the Dior Haute Couture gown that she wore to the 2017 Emmys and you'll see what I mean. Covered completely in feathers, it featured a black bodice with a deep V neckline from which a rainbow of a skirt cascaded. It had a gorgeous prismatic effect to it that was anything but subtle, and proved definitively that she does not shy away from a bold look.
Tonight, at the 2018 Golden Globes, her look is slightly more subdued, but still packs a personality rich punch. Kravitz is wearing a black dress (actors and actresses are wearing black to the Globes this year to protest sexual harassment) and while it's somewhat simple in shape, it boasts an air of sexiness and drama. It's strapless and features a fitted bodice and long, slitted skirt that ends in a slight flare. When the skirt opens, Kravitz's sky-high heels pop out from underneath. It's a dress and shoe combo I'd imagine a modern-day b*dass Bond girl to wear.
To finish off her look, Kravitz has gone for oversized emerald green earrings and a matching ring that have a costume-like look. To say they pop is an understatement, but they go absolutely brilliantly with the rest of the monochromatic look.
Move over, Wizard of Oz — the Emerald City has certainly found itself a new Queen.