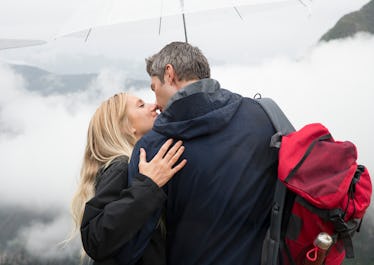 Here's Everything We Know About 'Bachelor' Arie & Lauren B.'s Dramatic Relationship
Arie and Lauren B. may not be in the public's favor following the unconventional reason behind their post-Bachelor reunion. After initially proposing to Becca K. in Peru, Arie ended their relationship soon after filming wrapped and then visited Lauren, asking to date her in real life. It's been a few months since Arie reached out to Lauren post-show, so given how quickly franchise relationships can progress, are Arie and Lauren B. engaged after The Bachelor?
Rumors of the two dating after the show first emerged early in the season. The show seemingly emphasized both Arie and Lauren's worries that he would pick the wrong person at the end of the show. Who could forget that strange post-rose ceremony footage of Lauren in a dark corner saying how the other women pursuing Arie were annoying her?
I'm getting pissed off by the smallest things...it's just such a weird place to be in... But, also, I'm, like, terrified that he's gonna pick someone else... I just clam up and I can't talk because I've been looking for this kind of person for the longest time, I haven't been able to find them, and that's why I have such a strong connection to him...it's not easy.
Despite his massive connection to Lauren that no one but Arie seemed to understand, the Bachelor was always hesitant about Lauren's tendency to overthink everything. In his People blog about fantasy suite dates, Arie said of Lauren:
I was in love with her and had such strong feelings, but she seemed so worried and distant. When she told me she was considering leaving due to the stress, I didn't know what to do. Thankfully, that night, we were able to talk directly about the problem. Hearing that she was in her head due to the stress of thinking about me dating other women, but, still, was very much in love with me made all the difference in the world. We were in love, and it felt great that we could both express that.
Before Lauren met Arie's family in Peru, Arie spoke to them about spending so much time reassuring her. He worried about that tendency continuing in their potential post-show life, which obviously played into his initial decision to propose to Becca instead.
In his rejection of Lauren, Arie still didn't really explain why she wasn't the one. Although she mentioned to him how confused she was about the decision, it wasn't until her limo ride that Lauren spilled, saying that she didn't understand why he told her he loved her. Girl, same.
Arie's subsequent proposal to Becca was quickly followed by the unedited footage of him dumping her after filming wrapped. In the weeks after his proposal, Arie kept thinking of Lauren while still seeing Becca, which prompted him to contact producers and essentially ask them to film him completely crushing Becca's heart. I don't think anybody anticipated such a long, uncut look at Arie and Becca's breakup, which meant that Arie's post-show reunion with Lauren wasn't shared with viewers on Monday night.
We'll get clearer confirmation of Lauren and Arie's current relationship status during the live "After the Final Rose" on Tuesday night. It's safe to say that, after seeing how he treated Becca, it would probably be in very poor taste for Arie to drop a surprise proposal on the live show. As much as I'm hoping for one more "I like that" before the season ends, the phrase is probably best not to be uttered on "After the Final Rose."
Season 22 of The Bachelor concludes on March 6 with "After the Final Rose" beginning at 8 p.m. ET on ABC.