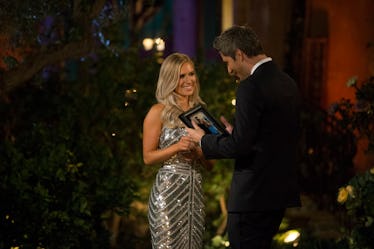 We Need To Talk About That Footage Of Lauren B. At The End Of 'The Bachelor' Week 6
I don't know how it happened, but somehow we've reached the point of The Bachelor where the no-name contestants are gone and the women are suddenly discussing hometown dates in episode previews. Even the most level-headed contestants showed signs of jealousy during Arie's Week 6 one-on-one dates, but the peak of such envy hit us when Lauren B. closed the episode with her bizarre comments about Arie to an off-camera producer. If you were looking for clues Arie picks Lauren B., or at least that she makes it to the finale, this odd moment of quiet and slightly dull Lauren venting might just be a major hint.
Rumors that the two are now dating post-show started flying around last week, fueled by Arie constantly saying he fell in love with two women and the emphasis on Lauren expressing a fear that he'll choose someone else. When Lauren went on her first one-on-one date this week, anyone familiar with the dating rumors definitely had a "really, her?" moment during that segment. This reaction is not unlike how I saw Ben Higgins' Lauren B., so maybe the name just causes these blah feelings for everyone.
Lauren was awkward and shy as she and Arie jaunted through Paris, saying, "Wow" to every landmark he pointed out. It got so excessive that both Twitter and Lauren poked fun at it online. I mean, I guess that's a sign that she's actually willing to laugh at herself?
The only moment of the date that broached the couple's connection was when Arie began nudging at why Lauren didn't seem into him. She still had her walls up, and it took Arie's reveal of his close call with fatherhood to convince Lauren to open up more. Although she revealed that her failed engagement and her parents' bumpy marriage prevent her from trusting easily, Lauren still left the date with a rose in hand and worries about saying enough to Arie in her mind.
Once her date was over, I proceeded to forget about Lauren until the end of the episode. After the rose ceremony, the camera lingered in the room, showing some women talk to Becca K. about her receiving the last rose. I don't know if this was meant to stir up some tension between Becca and Lauren, but Lauren's unexpected monologue in a dark corner of the room completely came out of the blue:
I'm getting pissed off by the smallest things...it's just such a weird place to be in. I should be excited that we're going to Tuscany and we're traveling the world and it's so cool and fun and new places and blah, blah, blah. But, also, I'm, like, terrified that he's gonna pick someone else...Today, when Jacqueline went on her date, it was like torture to watch that. I clammed up...I just clam up and I can't talk because I've been looking for this kind of person for the longest time, I haven't been able to find them, and that's why I have such a strong connection to him...it's not easy.
Who knew she could say that many words?
In the middle of her confession, the camera cut to another killer Bekah M. impression that was seemingly of Lauren B. not being happy with Becca K.'s rose. Speaking as an often shy person, I get the vibes of Lauren being much too sweet and quiet to actually step on the other women's toes, but it looks like her growing attachment to Arie is causing her to isolate herself from the other women.
Seeing as we rarely get to listen in on contestants' conversations after a rose ceremony, Twitter was pretty confused with this shake-up in format, but some interpreted it as producers' attempts to help viewers get to know Lauren better. Some fans even thought that it was a sign of her becoming the new villain now that Krystal is gone.
I definitely don't see an obvious connection between Arie and Lauren, but their mutual dullness seems to be a bonding factor for them. Either way, the fact that Lauren spoke the most in a technically off-camera moment is a telling sign that she's one to watch in the next few weeks.
The Bachelor airs on Mondays at 8 p.m. ET on ABC.