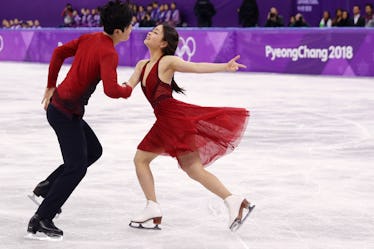 The Shib Sibs Are So Ready For The Olympics Closing Ceremony & This IG Proves It
Maddie Meyer/Getty Images Sport/Getty Images
As you probably know, the Olympics closing ceremony is kind of a huge deal. This year, it'll wrap up the entirety of the 2018 Winter Games in PyeongChang, South Korea. During the event, athletes will walk and be acknowledged for their epic competitions throughout the past few weeks. Some might call is a celebratory gathering, while others might call it a family affair. In fact, one brother-sister duo from America totally owned the games this year, and you're probably wondering if Alex and Maia Shibutani are at the 2018 Olympics closing ceremony. It looks like they are, just like everyone expected.
In case you're unaware (or simply don't pay attention to the Olympics), Alex and Maia Shibutani are siblings who competed in the ice dancing events during the games. They've been skating together since 2004, and are nicknamed the "Shib Sibs." Cute, right? Growing up, my sister and I were also super active (we were on the same softball teams for years and did gymnastics for a hot sec), but I don't think we'd ever come close to the athletic bond the Shib Sibs have. I digress, though.
Even though Alex and Maia Shibutani are indeed at the Olympics closing ceremony, Olympics fans probably got the feeling that they would be after the closing ceremony outfits were revealed. The new Olympics look for the closing ceremony — designed by Ralph Lauren, again — is sportier than the opening ceremony getup. Team USA will wear white puffy bomber jackets over red, white, and blue crewneck sweaters. Their pants will have a white stripe running down each leg, and their hats will have a knitted red, white, and blue design with an American flag on it. Of course, they'll say "USA," because duh.
Check out an Instagram post by Alex of the Shib Sibs all geared up.
A photo of Alex and Maia Shibutani wearing the 2018 Winter Olympics closing ceremony outfits definitely made it seem like they'd be making an appearance IRL, and they definitely did.
Maia posted an Instagram on Sunday all suited up and ready to go to the closing ceremony.
OK, enough about fashion. Let's talk about Alex and Maia Shibutani's epic Olympics performances, because that's what they're being honored for at the closing ceremony on Sunday night.
The Shib Sibs have torn up the ice rink during their short skate and free skate performances throughout the games. However, one thing that stands out to me is their song choices (I'm a musician and definitely resonate more with the music than the actual sport... sorry). It appears the American sibs' have a serious soft spot for Coldplay, because they performed their free skate routine to the group's hit son, "Paradise." (Sing it with me: "Para-para... paradise.")
That's right: The duo skated to popular tune on Monday, Feb. 19 (which was Tuesday morning, Feb. 20 in PyeongChang). If you like the song (or if you just like a good ice dancing performance), check out the video of the Shib Sibs grooving on the ice:
See? Pretty incredible.
Apparently, there's a reason why Alex and Maia Shibutani like the Coldplay song so much. According to Entertainment Weekly, they want the Olympics to become their "paradise." In an interview, the Alex said,
Their music sort of speaks to a lot of key motifs and themes about dreams and love and freedom and flying… and so we chose to skate to 'Paradise,' because we want PyeongChang to be our 'Paradise.'
During the discussion with Entertainment Weekly, Alex also said that the song choice represented how much the siblings have matured since the 2014 Olympic Games in Sochi. The song was extremely personal to both of them, and easily the perfect music to their free skate.
Regardless of music or fashion choice, we're happy to see the Shib Sibs at the Olympics closing ceremony.