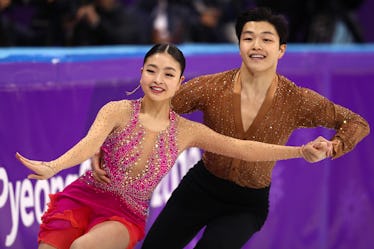 The Shib Sibs Are Skating To This Coldplay Song For A Perfect Reason
Dean Mouhtaropoulos/Getty Images Sport/Getty Images
The 2018 Winter Olympics have been filled with so many great moments already, but you can oftentimes miss out on some of these moments if you're not familiar with a particular sport. One sport that you should definitely keep an eye on is ice dancing, because beyond having to deliver flawless performances, the competitors are also officially judged on their music choices. There is one ice dancing pair on Team USA in particular that usually delivers spectacular performances set to the perfect tunes. Alex and Maia Shibutani's free dance song will be no exception as they skate to Coldplay's "Paradise."
The 2018 Winter Olympics free dance competition is on Monday night, Feb. 19 (which is Tuesday morning, Feb. 20 in PyeongChang), and siblings Alex and Maia Shibutiani (AKA the "Shib sibs") will skate their long program, which is set to Coldplay's "Paradise," according to Entertainment Weekly. The Shib sibs told EW that this song choice is a result of how much they've grown and matured since competing in the 2014 Sochi Winter Olympics. One part of this maturation is their decision to create a more personal connection to the song and routine.
The Shibutiani siblings are drawn to Coldplay's music because they like its uniqueness in the context of ice dancing and the way Coldplay's music speaks to themes like dreams, love, freedom, and flying. Choosing "Paradise" for their long program is important to Maia and Alex because they want the 2018 PyeongChang Winter Olympics to be their very own version of "Paradise."
This isn't their first time skating to Coldplay's music. The siblings first skated to "Fix You" at the 2016 U.S. Figure Skating Championships in Saint Paul, Minnesota where the pair earned a gold medal in the Championship Free Dance. Alex relayed to EW that their "Fix You" performance marked the first time that sibling pair told a more personal story with their music on the ice.
Telling a story with the music is important when it comes to scoring an ice dancing performance. In the scoring of the "Unfactored Program Components," there is a section dedicated to "Interpretation of the Music and Timing." For reference, figure skating programs are only scored on the "Interpretation of the Music."
The story that Shibutani siblings tell is coming from a real place in their lives. After some initial success as an ice dancing pair in 2011, they hit some rough spots, and their "Fix You" performance in 2016 was about relaunching their career after suffering some setbacks. Whether it was the result of a decision to perform a more personal program on the ice or the maturation of the siblings since 2011 (or both), their new approach to their ice dancing routines seems to be paying off big time.
On Sunday night, Feb. 18 (Monday morning, Feb. 19 in PyeongChang), the Shib sibs wowed the the audience with their short ice dance routine.
While that short program performance wasn't a medal competition, their long program on Monday night is the Shib sibs' chance to earn another Olympic medal. The siblings previously helped Team USA earn a bronze medal in the team figure skating competition when they placed second in the ice dance free dance portion of the competition.
As the sibling duo skates for a chance to earn a medal on Monday night (hopefully claiming the gold), you'll likely find that you can't help but root for these two. 23-year-old Maia and 26-year-old Alex have been skating together for well over a decade, according to MLive. That's right, the pair began their ice dancing career in 2004 when they were just kids.
You'll definitely see the pair's growth as they skate their long program to "Paradise," and hopefully they take home the gold and solidify the 2018 PyeongChang Winter Olympics as their very own "Paradise."