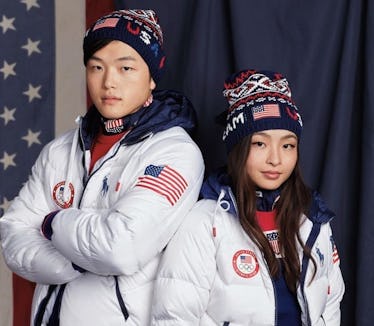 If You Love Beanies & America, You're Going To Need Team USA's Closing Ceremony Hats
Ralph Lauren
Olympic athletes use their uniforms to perform better, and to proudly show off the colors from their home country. But this year, team USA's gear was designed by Ralph Lauren (I know, how American!) and it is major fashion goals. Here's where to buy team USA's closing ceremony hats, because they're super wearable, whether you're good at sports or not.
Back when I was a cheerleader, my favorite part about being on the team was recieving a duffle bag of new gear every year. What can I say? Fashion has always been exciting to me. Although it was all super generic and every high school athlete basically had the same gear, I was obsessed with every name-embroidered piece I owned. I actually still have a lot of my high-school cheerleading outfits, both because of my hoarder tendencies, and because they hold such a special place in my heart.
But OMG, can you imagine if when you joined a sport, you were showered with outfits and accessories in your team name and colors, but these were designed by Ralph Lauren? If it was me, I would take those pieces to the grave with me. Although the gloves worn by athletes in the 2018 Winter Olympics opening ceremony on Feb. 9 were hilariously compared to those worn by Jim Carey's character, Lloyd Christmas, in the movie Dumb and Dumber (and I admit, that was the first thing that came to my mind too), I'd wear the hell out of those suede fringe gloves! Even here in LA.
Don't even get me started on the USA knitted beanie, Ralph Lauren puffer jacket, and the red, white, and blue fair isle sweater. What I'd give to be a part of that team (you know, for the swag). I'd be the water girl if that meant I could just wear the gear. Since I'm not one hundred percent sure that job even exists, I guess I'll have to live with the fact that I might never be dressed in head-to-toe USA olympian gear in this lifetime — or do I?
And as if one full Ralph Lauren custom-designed outfit wasn't enough eye candy, the designer is also tasked with dressing USA's athletes for the 2018 Olympics Closing Ceremony on Feb. 25.
The olympians will be dressed in navy track pants with red and white stripes down the sides of the legs, red crew neck sweaters, and white puffy bomber jackets. It's all very 90's Americana sportswear and I think it's fabulous. Oh, and the accessories! The patriotic outfit will be polished off with American flag bandannas tied around their necks and team USA beanies on their heads. And you guessed it, I want that beanie too!
Lucky for me (and you too), the beanie is actually for sale along with a few other key pieces seen above! I have to say though, this just might be the most expensive hat you buy in your entire life. To soften the blow of me telling you the price, here's why you might not mind shelling out a pretty penny for it.
It's 100 percent wool. First of all, pure wool is super expensive but it's really durable and so warm. While it might be the most expensive beanie, it could also be the last one you ever need to buy.
It's made in America. I'd hope so! Buying American-made products might cost a little bit more, but it's great for the economy.
It gives back. Although there's not an actual dollar amount associated with the sales price, the Ralph Lauren website says, "Ralph Lauren is an official outfitter of the 2018 U.S. Olympic and Paralympic Teams. Your purchase helps support Team USA."
Polo Ralph Lauren Team USA Closing Ceremony Hat, ($195; ralphlauren.com)
OK, so the beanie will run you a cool $195, but feeling like a lost member of team USA is actually priceless. Worth it!!
Synonymous with the Ralph Lauren brand, this navy beanie screams Americana vibes from its tassels up top, to the knitted details throughout, and the Polo Ralph Lauren horse motif embroidered right into the wool. I can picture it now, me in my team USA cap, sipping hot chocolate in Aspen after a long day of hitting the slopes (in an inflatable tube, not skis).
In case you're willing to spend some major cash on outfitting yourself in head-to-toe USA olympian gear, you're in luck. You can actually score the even more pieces from the closing ceremony look below.
Polo Ralph Lauren Team USA Ceremony Wool Sweater ($495, ralphlauren.com)
Need a $500 sweater? Ralph Lauren and team USA have you covered!
Polo Ralph Lauren Team USA Ceremony Mittens ($135, ralphlauren.com)
What better to pair with your two hundred-dollar beanie than a pair of almost two hundred-dollar mittens?
Who knew looking like an athlete could be so easy? It'll cost me, but the good news is I can even call off all of my upcoming pilates classes. It's called priorities.