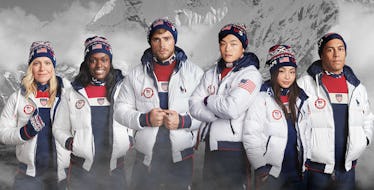 Team USA's Closing Ceremony Jackets Are Americana-Puffer Magic & I Need One Now
Ralph Lauren
I know I'm not the only one that will miss all of the excitement of watching Team USA compete at the PyeongChang games. I feel like it was just yesterday that I woke up early AF to watch the opening ceremony live. Now, it's time to start wondering where to buy Team USA's closing ceremony jackets, because they're going to commemorate this epic Olympics like nothing else. If you manage to score one, you'll look like a champion and and also feel cozy AF.
Although I was very much tuned into all of the cultural moments of the opening ceremony, I admit that I was concentrated on dissecting every country and their opening ceremony outfits. Collectively, I was a bit disappointed, but I was very much here for Team USA's entire look. People couldn't stop talking about the gloves. The jackets were the main attraction, though, so I had to find out if the closing uniforms were going to be equally as flashy.
I'm happy to report they are, and I feel like proud Americans are going to love them even more than the opening ceremony outfits. Catch the closing ceremony on Feb. 25 to see all your fave winter Olympians decked out in yet another full Ralph Lauren look.
While the opening ceremony was more cabin-themed, the closing ceremony steers back to more sporty roots. The athletes will wear white puffy bomber jackets and color blocked red, white, and blue crew neck sweaters. On bottom, the Olympians will rock navy track pants with red and white stripes running down the sides of the legs. To top off the look, red beanies, suede mountaineering boots with red laces, and American flag bandannas round out the accessories.
It's no surprise that the Olympic Winter Games have been freezing. According to rlmag.com, it was their top priority to keep the athletes warm during the opening and closing ceremonies. Since Ralph Lauren prides itself on being an American-made brand, two California-based companies were responsible for creating components for the closing ceremony outfits.
Clothing company Andari made the closing ceremony sweater and mittens. The company story is super inspiring and a testament to the true American dream. It's run by brother and sister team Weir and Ilona Wang, whose parents founded the company in 1991. They were actually going to close the factory during the Great Recession, but the younger siblings stepped up to the plate, and marketed the company to clients like Ralph Lauren. Andari actually helped to produce uniforms for Sochi 2014. So clutch.
The closing ceremony hat was made by a company called Ball of Cotton. This company was founded by husband-and-wife duo Eddie and Elizabeth Park in 1991. What started out as a small factory in LA, has now blossomed into a 13,000-square-foot- facility in Commerce, California. Led by their son Jonathan Park, they employ 30 employees that produce all of the brand's garments-including the closing ceremony hats-by hand.
"There is a sense of pride across the factory in making the uniforms for Team USA," Park says. "The work ethic from the whole Ralph Lauren team and the tenacious team here at Ball of Cotton complement each other, in that we both strive to have an end product that physically and visually expresses [a level of] quality, comfort, and workmanship that's representative of our country."
Unfortunately, the cool jackets are not for sale, but you can buy parts of team USA's uniforms. If you're dying to get your hands on a puffer jacket, there's so many on the market. Also, since the season is about to change, they're for sure going to be on sale. Go ahead, indulge a little and stock up on jackets for next season.