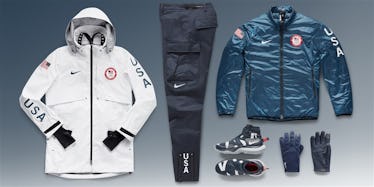 You Can Actually Buy Team USA's Olympic Medal Outfits & Pretend You're An Olympian IRL
Nike
The 2018 Winter Olympics are in full swing in PyeongChang, Korea, and I'm thoroughly enjoying them from My Couch, USA. The teams' uniforms are always a highlight for me and some of them this year are pretty swoon-worthy, so here's where to buy Team USA's Olympic podium outfits.
The Olympic opening ceremony saw some epic team uniforms — Team USA's gloves blew up on Twitter, and their jackets had internal heating devices that I envy. Aside from keeping the athletes warm, the opening ceremony outfits are mostly for show, but Team USA (all 243 members) receives an entire other set of uniforms for competition time. During competitions and races, athletes wear their necessary gear, but on the medal stands, the athletes bundle up and get patriotic in Nike's Team USA olympic podium outfits.
This year's podium uniforms feature a sleek white parka and a trendy AF shiny blue bomber jacket. Since I've probably missed my chance of getting free clothes as a world class athlete, I'll have to settle for spending my oh so abundant disposable income on the limited edition duds.
Gold medal snowboarder Chloe Kim, who is only 17 years old, has been one of America's favorite athletes, and here she is rocking the Nike medal stand look while receiving her Olympic medal. One of my newer life goals is to be more like Chloe Kim, so at least now I can wear her same outfit (because I'm not planning on winning a gold medal for snowboarding any time soon, or ever).
Nike USA Medal Stand Women's Jacket
$450, Nike
$450 is more than I usually spend on a jacket, or anything besides rent, but it's a very cool coat that's worth looking at. The jacket is waterproof and wind-resistant, has built-in knit hand-warmers, and an optional hood that zips away into the collar.
The jacket also has a handy audio pocket emblazoned with the American flag so you can really feel like the Olympian that you aren't. The Men's Medal Stand Jacket is also available for purchase ($475, Nike).
NikeLab USA Summit Women's Jacket
$300, Nike
This bomber jacket is one of the most stylish pieces of Olympic clothing I've ever seen. It's meant to keep you warm on the slopes but would also look good as an everyday layer back home. The Nike Men's Summit Jacket retails for the same price.
NikeLab USA Women's Pants
$260, Nike
These adjustable waistband pants go up to size 2XL, have an adjustable waistband, and zippers at the ankle for easy on and off. The NikeLab USA Men's Pants have additional side cargo pockets.
Nike Gaiter Women's Boot
$250, Nike
The medal stand shoes are basically the ultimate winter boot. Part sneaker, part snow boot, with a built in sock-like sleeve, these will keep your feet warm AF wether you're standing on a gold medal podium or running through brown snow puddles on your way to catch the subway. The Men's Gaiter Boots have a shorter shaft and look more like a true sneaker. If that's more your style, go down two sizes to get your correct sizing in men's shoes.
Nike Sportswear Tech Fleece Team USA Women's Pullover Jacket
$170, Nike
This pullover won't be seen on the medal stands but it's another limited-edition, official Team USA item that I want to get my hands on. It's also the lowest priced item in the Nike Olympic collection, so that's v appealing. The men's equivalent to this pullover is a Tech Fleece Windrunner which offers slightly more wind protection, but it's also got a significantly higher price tag.
A full Olympic podium will run you about $1,260, but twinning with Chloe Kim? Well, I just told you, it'll cost $1,260.