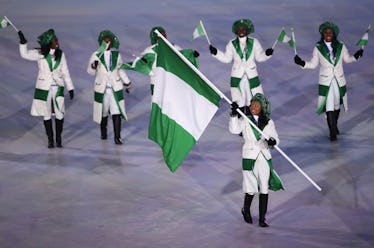 The 2018 Olympic Opening Ceremony Coats Are Better Than What's At Fashion Week, TBH
Ronald Martinez/Getty Images Sport/Getty Images
Maybe it's because of my 10-year-and-counting crush on snowboarder Shaun White, but the Winter Olympics are, in my opinion, the more entertaining of the two seasonal famed games to watch. While the events themselves haven't started, you better believe I was glued to the television this morning in anticipation of seeing the 2018 Olympic opening ceremony coats for each country. (And maybe a certain redheaded two-time Olympic gold medalist. Swoon.) It's always interesting to me to see how each nation portrays their culture and heritage sartorially, and I feel like the Winter Olympics, specifically, tend to lend themselves to more interesting uniforms because they always include outerwear.
Remember the 2014 uniforms of the German Olympic team? Those were insane. Featuring orange hats and scarves; yellow, green, and blue striped parkas; and floral orange pants, they were a searing eye full — and I LOVED them. Russia's 2014 uniforms were similarly memorable and featured navy blue coats with long, shaggy white fur trim; Lithuania's were composed head-to-toe of neon and Gumby greens; and Norway's boasted powder blue pants and white coats that looked sleek af together. My point is that some countries send their athletes out in some seriously crazy outfits, and I LIVE for it.
Naturally, I've been eagerly waiting to see what sartorial surprises awaited in PyeongChang this year. I've known what the Team USA uniforms look like for about a month, as Ralph Lauren, who outfitted the athletes, released sketches and and photos of his designs in January. Featuring fittingly Americana knit sweaters; denim jeans; and red, white, and blue coats (they have internal heating systems!), they capture classic USA style. The gloves, however, add a cool and unexpected flare the the uniforms. Made of nude suede, they reach halfway up the arm to the elbow and feature bold fringe detailing.
Yes, Team USA's coats are tech savvy, but tbh, other countries rolled out in some of the coolest parkas, jackets, et cetera I've ever seen. It might be Fashion Week in New York City, but PyeongChang is where it's at! Take a look below and you'll see what I mean.
Nigeria
This is the first time Nigeria has ever competed at the Winter Olympics, with a women's bobsleigh team and one female skeleton athlete qualifying for the event. It makes sense, then, that they'd want to make an epic sartorial debut. Wearing green and white, which are the colors of the country's flag, the athletes arrives in sleek coats that reached just beneath the knee and featured tuxedo-like lapels. They look like a mixture between a sleek ski puffer and futuristic peacoat and I am SO here for it.
Slovenia
More Gumby green! Think how cool these coats would look with a pair of jeans and chunky black boots. I love the vibrant color and sleek silhouette of the outerwear — it would definitely make you stand out.
Germany
If Carhart went high fashion, this is what I imagine their coats would look like. Seriously, I need one of these stat! They look super soft, you know they're warm because #Germany, and the pocket, zipper, and leather patch detailing are just plain cool.
Japan
Leave it to Japan to make even the most minimalist of coats somehow look impossibly cool. The slightly dropped hemline, the white-on-salmon accents, and the streamlined silhouette — it's all so cool.
Colombia
Vastly different from what any other country sported, Team Colombia arrived in the coolest of white capes and black banded hats. Called ruanas, this this type of outerwear is typical of the Andes region of Colombia. It's an awesome way for the country to pay homage to traditional dress while also standing out sartorially at the winter games.
Australia
Yessss, Australia! Come through with the liquid metal puffers! Metallic coats were HUGE for this season, but no designer offset them with lime green accessories and teal pants quite like this.
Korea
For the first time since 2006, North Korea and South Korea marched together under the same flag. It was a beautiful moment representing hope and peace, which is why the white coats the athletes wore were that much more notable. (The color white represents peace and hope itself.) Beyond their symbolism, the coats themselves were just plain rad. Sleek, clean, and with "KOREA" emblazoned in graphic lettering on the back, they're what minimalist chic dreams are made of.
Bermuda
I love it when people throw practicality to the wind in the name of making a statement or impression. Bermuda did just that when they rolled up to the opening ceremony wearing Bermuda shorts (*clapping*), knee socks, and (actually very chic) prep school-inspired blazers. Way to shake things up a bit.