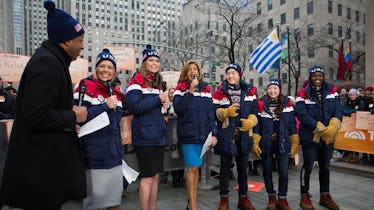 Olympic Opening Ceremony Coats Have Built-In Heaters 'Cause Brrr, It's Cold In Here
The 2018 Winter Olympics have begun, and as important as the games is keeping warm during the opening ceremony, in style. The athletes will do just that, and here's where to buy Team USA Olympic opening ceremony outfits so you can be toasty AF too.
A grand total of 243 U.S. athletes will march in the 2018 Winter Olympics opening ceremony in PyeongChang, South Korea on Feb. 9, 2018 at 6 a.m. ET. In addition to launching the competition, the opening ceremony is something of a worldwide fashion show. Each year, the U.S. taps a patriotic designer to create the uniform for the American athletes to wear. This year, fashion brand Polo Ralph Lauren is dressing the men and women in lust-worthy duds with some seriously cool features. The most alluring aspect of the designs is the internal heating system built into each jacket. Even better than that, though, is that non-Olympic gods like me and you can buy them!
That's right, while on my couch watching the best athletes on earth compete, stuffing popcorn into my mouth, I'll be comforted by the fact that I can dress like one. Here's all the deets on the epic opening ceremony uniforms and how you can score the Olympic fashions.
The Today Show first debuted this year's outfits.
Team USA Ceremony Women's Sweater
($595; ralphlauren.com)
The team will be wearing this Nordic-inspired sweater as a base layer. It's a pricey knit but also v exclusive.
Team USA Ceremony Women's Skinny Jean
($295; ralphlauren.com)
Men and women will both be wearing these printed skinny jeans.
Team USA Custom Unisex Opening Ceremony Hat
($180; ralphlauren.com)
This official Team USA hat is customizable with six different hat color combinations, four different pom pom options, and you can personalize it with your initials.
Team USA Ceremony Women's Mittens
($135; ralphlauren.com)
These limited edition mittens convert into fingerless gloves, so your phone is never out of reach.
Team USA Opening Ceremony Parka
(Ralph Lauren SoHo; 212-625-1660)
There's no confirmed price on these jackets because they're sold out unless your a world-class athlete (in which case you get one for free). Non-Olympians can get on the waitlist for one by calling the Ralph Lauren store in SoHo, New York City at 212-625-1660. And I think you're going to want to once you hear more about the features this jacket boasts — the parkas have an internal heating system that you can control via your cell phone.
It's about 32 degrees Fahrenheit during the PyeongChang opening ceremony, which isn't the coldest temperature I've heard of, but the athletes have to stand out there for about two hours, all while having cameras shoved in their faces. I'd want to ensure my warmth if I were them, and Ralph Lauren does too.
You see that metallic American flag on the inside of the jacket? It's an electronically-printed heat conductor made of carbon and silver ink. "The printed conductive inks are flexible and stretchable, and connect to a battery pack with three settings. With water-repellent properties and featuring 11 hours of heating time at full charge and immediate heat, the jackets are truly functional pieces for America's brightest athletes," said a press release. And it's all controlled by way of the wearer's cell phone!
Ralph Lauren also used the jackets for good, raising money for the U.S. Olympic Team. From Jan. 22 through Jan. 24, the brand donated $1 to the United States Olympic Committee for any post on Instagram, Twitter, and Facebook that used the hashtag #HeatTheWayForTeamUSA, up to $100,000.
Now, back to watching the Olympics from the comfort of my own personal heating device — my apartment.