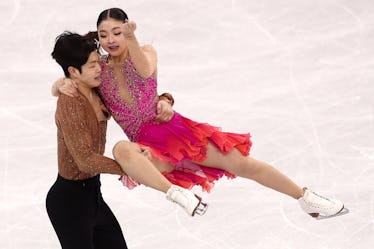 The Shib Sibs Free Dance Was Amazing & I Can't Get Over This Video
Ronald Martinez/Getty Images Sport/Getty Images
By now, you guys must have heard about the Shibutanis. They're the dynamic brother-sister duo cleaning up at the 2018 Winter Olympics in figure skating competitions. They have a sibling bond truly like no other. I don't remember the last intense thing my brother and I did together, but it was probably something like a pie eating contest at Thanksgiving and nothing at all like competing in Olympic sports. The video of the Shib Sibs free dance is on fire, and it's going to have you cheering so hard.
On Feb. 20, Maia (23), and Alex (26), took to the ice rink one more time to perform their free dance routine at the 2018 Winter Olympics In PyeongChang, South Korea. It came just one day after their short dance on Feb. 19, in which the siblings placed fourth with a score of 77.73, just .02 points below fellow American skaters, Madison Hubbell and Zachary Donohue. In the end, team USA took home the bronze medal.
Now, for their free dance, the Shib Sibs chose to choreograph their routine to "Paradise" by Coldplay.
NBC Olympics reports that Alex explained some of the thought process behind their routine during a conference call with the media. He said,
This program and everything that we've been building for has been for the coming weeks... For Korea, for the Olympic Games. We've made a lot of positive changes and the program has changed quite a bit. We're very confident in the changes we've made and it's really clicking for us.
He also told Entertainment Weekly the song choice had personal significance to him and his sister. More specifically, they were hoping the 2018 Olympics would be their own "paradise."
Alex said,
... You always want to skate to something that is of personal significance to you, and realizing that the Olympic Games draws so many eyes to the sport, that's also something we wanted to keep in mind, and with Coldplay being such a well-known popular band — and they're popular for a reason. Their music sort of speaks to a lot of key motifs and themes about dreams and love and freedom and flying… and so we chose to skate to "Paradise," because we want PyeongChang to be our "Paradise."
Maia agreed, adding,
We do realize it's unique. When a lot of people think about figure skating, I don't necessarily think Coldplay is what they expect to hear while they're watching the sport during the Olympics, but for us, we're following what we want to show on the ice creatively, and that process, like Alex said, has brought us to wanting our "Paradise" to be in PyeongChang. And we've been on such a journey personally, but really the messaging of the song — of following in your dreams and believing in yourself no matter what — that's really resonated with us.
Well, their song choice paid off. Take a look at their free dance video.
Because this is seriously amazing.
You can see the full video of their free dance routine here on NBC.
The routine won them a great score, too — with a total for the free dance of 114.86, the Shib Sibs moved into the lead after their routine, with a total score of 192.59.
Though there's been a lot of commentary on how unusual it is for siblings to compete together as figure skating partners, the Shib Sibs ignore the noise.
Alex shared a picture of himself and Maia accepting their team's bronze medals with a touching caption. He wrote, "We have become successful BECAUSE we are siblings and family. Not in spite of that fact."
Honestly, Shib Sibs, you're the epitome of #siblinggoals.
Erin Jackson is an inline skating world medalist and roller derby MVP. She dreamed of skating in the Olympics, but to do that, she had to get on ice. She took her first steps on a long-track course in 2016 and started training professionally in September 2017. Four months later, she qualified for the Olympic Winter Games. Check out Elite Daily Insights' video on Jackson's incredible story: