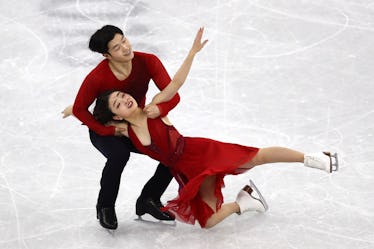 The Shibutani Siblings' Short Dance Music Is Keeping With A Theme, & Here's Why
Dean Mouhtaropoulos/Getty Images Sport/Getty Images
One Winter Olympics event category that always stands out to me is ice dancing. Not only because it sounds like the title to a bunch of Disney movie songs, but also because it's a lot of fun to watch (and I understand what's going on). Pairs put on a show with their routines, and sometimes the music skaters choose to ice dance to can make or break them. So when they take the ice for short dance performances on Feb. 18, we will all be clued into their choice of tunage. As for Team USA, the Shibutani siblings' short dance music is keeping with the theme of this year's PyeongChang performances.
The American brother-sister duo of Maia and Alex Shibutani (ShibSibs to us) have chosen to skate to a medley of songs by Cuban bandleader Perez Prado (the father of Mambo No. 5 — the original, not the one that is about to be stuck in your head), according to NBC. Skaters always face the tough decision of picking just the right song to craft their performances to, but this choice by the Shibutani siblings is particularly interesting because this years Olympic short dance theme is "Latin."
At every Olympics the short dance performers are given a style of dance, which all of their performances must encompass. This time around all the rhythms of the short dances at PyeongChang will have to include a Rhumba portion. They will have to utilize Latin ballroom rhythms: Cha Cha, Rhumba, Samba, Mambo, Meringue, Salsa, and Bachata.
This theme goes farther then just counts and rhythm. The teams will also have to capture the look and the feel of Latin American dancing.
To clarify, every team has the freedom to craft their own performance in whatever style they choose, but during their performance they will all have to perform the same rhumba pattern. This particular pattern, according to The Washington Post, calls for the skaters' free legs to mirror their partners at exactly the same distance and angle while they perform very challenging twists and turns.
Latin rhythms are fun and often make you want to get up and dance yourself, but it does seem like having all of the competitors making use of the same style could get stale. Also, having such similar style could open the teams up for very very close comparison. Alex Shibutani, however, thinks that the room for close comparison is a good thing. He told NBCOlympics.com,
Combining the compulsory dance with the original dance to create the short dance gives us more opportunities to show separation between us and other teams, and highlight what we do well.
That's a nice optimistic (and competitive) approach.
Giving all the competitors the same tool to work with and seeing what they build from it is definitely an opportunity for skaters to be creative and try to stand out from the crowd.
Sochi 2014 ice dancing gold medalist Charlie White explained exactly how skaters should build their performances and insight into how they are judged. He said,
It's just like in freestyle, everyone's doing the same jumps, everyone's doing the same spins. Everyone's basically doing the same footwork sequences. You have to put your own little spin on it and that's where the judging comes in. It's good for the fans to see side by side comparison, especially in ice dancing because it is so hard to say which team is better if you're just a general fan. But if you can see one team do it and they have way more speed, they continue the character all the way through every technical element, then you can have a better understanding of what you should be looking for.
I am definitely one of those people who thinks that the best skaters are just the ones that either made me cry or got me off the couch dancing with them.
Of course, none of the competitors have to use strictly Latin music although it seems they can't help themselves. Both South Korean pair Yura Min and Alexander Gamelin, as well as Shiyue Wang and Xinyu Liu from China picked "Despacito" for their numbers. But honestly, who can blame them? Not going to lie, I don't think I'd mind every damn performance being set to that Luis Fonsi hip-shaker. The fact that the Shibutani siblings chose to stick a little more classic is interesting. It could very well give them an edge, or maybe end up not being risky enough? I'm rooting for them. Good luck, ShibSibs!