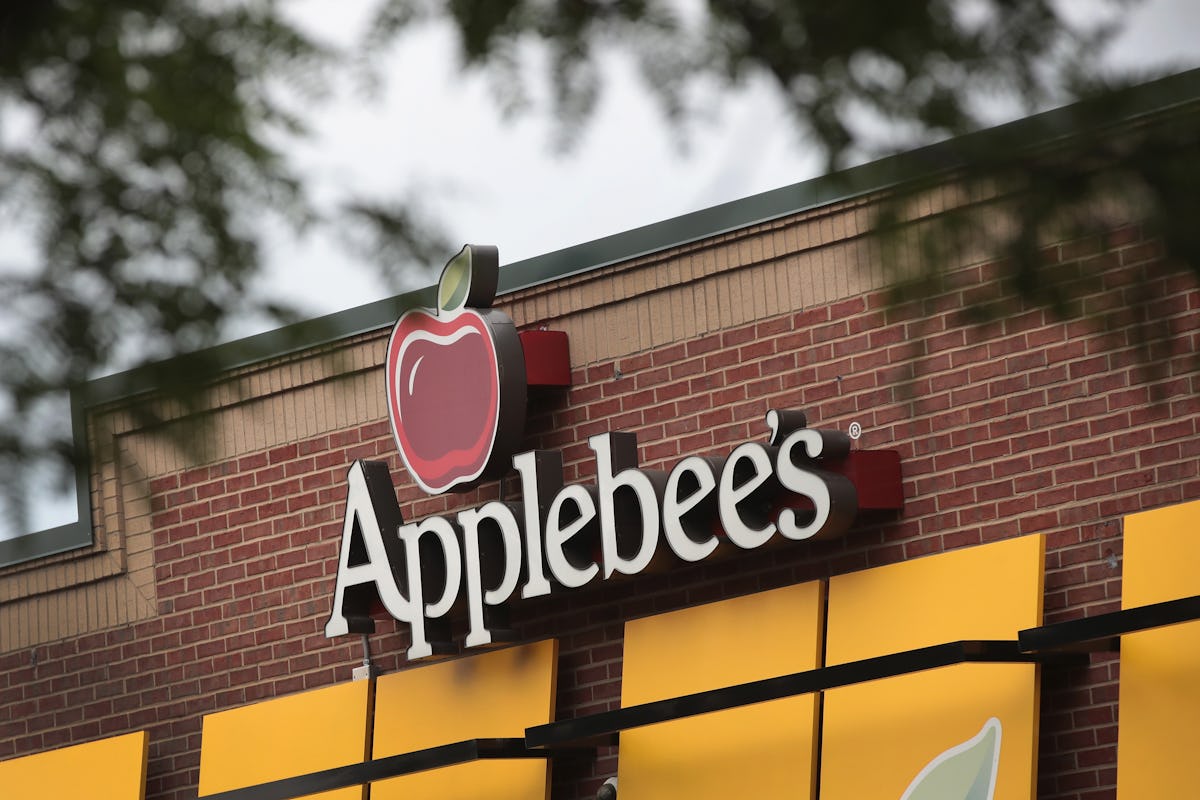 Applebee's $1 Drink Deal For August Is A Fruity Sip You Don't Want To Miss
Scott Olson/Getty Images News/Getty Images
I'm not sure how it always happens, but an inordinate percentage of my paychecks tend to go toward eating out at restaurants. I mean, who doesn't love a tasty bite and beverage after a long day? Alcoholic beverages can be wildly expensive, but sharing a drink with your besties is also one of the more convenient ways to socialize. Well, get ready to keep your weekly drink date for way less money this month, because Applebee's Strawberry Dollarita deal for August is here.
For the entire month of August — yes, you read that correctly — Applebee's is bringing fans the joy of $1 Strawberry margaritas, aka the Strawberry Dollarita, according to a press release. The tantalizing beverage is carefully concocted with tequila, strawberry, and margarita mix. It's served on the rocks to cool you down after a hot day in the sunshine.
After launching on Aug. 1, the Strawberry Dollarita is available during local operating hours at participating Applebee's for the rest of the month, because it's always five o'clock somewhere, right? Beware, though, because the price, participation, hours, and availability could vary by location (ahem, Dollar L.I.T. wasn't available in New York City last December and I was straight-up devastated), so check before you trek. Also, don't forget — if you do plan on drinking, you must be 21-years-old or older to do so.
Patrick Kirk, the vice president of beverage innovation at Applebee's, said in a press release that it's pretty dang tough to improve the ever-amazing Applebee's signature margarita. However, by adding a delightfully summery strawberry flavor — as well as a super steep discount — it's pretty hard to beat, especially during the hottest month of summer.
In the release, Kirk said,
It's crazy to think that our most popular drink could get any better, but with the addition of strawberry, our guests are going to love how good this DOLLARITA tastes. The STRAWBERRY DOLLARITA is the perfect way to cool down on those hot August days and enjoy the final days of summer.
If you're a tried and true fan of the 'Bee, you're probably aware of the fact that this isn't the first insanely cheap drink deal it has put out there. In fact, earlier in the summer, the quick-service chain kicked off the month of June with a $1 Long Island Iced Tea, which was called DOLLAR L.I.T. The drink consisted of a medley of spirits, including vodka, rum, gin, tequila, and triple sec — which was brewed with sweet and sour mix — and finally, a splash of cola. The DOLLAR L.I.T. was served in 10-ounce mugs over ice, and it was absolutely the perfect way to kick off the summer season.
Uh, I know it isn't technically happy hour yet — and there's a likely chance that you're not even close to the end of your day at work — but would you wanna pencil in a Strawberry Dollarita happy hour for this afternoon? I know it'll be around all month long, but IMO, this sounds far too good an opportunity to pass up. I need to get as many of these as I possibly can before the start of September, so if you need me, I'll probably be sitting at the bar inside Applebee's. Wake me up when August ends.