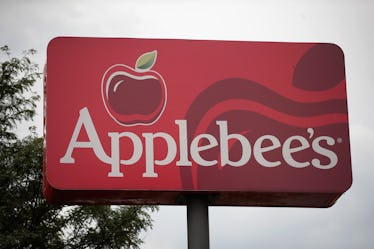 Applebee's Is Selling $1 Long Island Iced Teas Again & I'm Already Thirsty
Scott Olson/Getty Images News/Getty Images
When most people hear the term "lit," they probably think of post-college house parties or clubbing in the big city. But I, personally, think of Applebee's. No, not because their 2 for $20 app deal is probably the most "lit" deal I've encountered in all my days of dining on the cheap, but because of their infamous (and straight-up amazing) dollar Long Island Iced Tea (L.I.T.) deal. If that makes you feel like putting your hands in the air and waving 'em like you just don't care, get this: Applebee's $1 Long Island Iced Teas are back in time for the start of summer. My body is so ready.
Let's be real: Few establishments know how to kick off summer like the ever-sacred Applebee's Neighborhood Grill + Bar. As per usual, the fast-casual chain is starting off the best season of the year the right way, with their famous $1 Long Island Iced Tea deal, aka the DOLLAR L.I.T., according to a press release. The deal will be available at Applebee's restaurants nationwide throughout the entire month of June, so get ready to have a drink for less than a fiver.
In case you've never gotten the chance to indulge in Applebee's DOLLAR L.I.T., the famous drink features five of the world's greatest spirits: vodka, rum, gin, tequila, and, of course, triple sec, according to the press release. Finally, it's brewed with sweet & sour mix, and topped off with a splash of cola. The refreshing AF concoction is served in a 10-ounce mug over ice, and in case you didn't know, it's hands-down going to be my summer sipper.
Patrick Kirk, the vice president of beverage innovation at Applebee's, said in a press release that he always looks forward to the DOLLAR L.I.T. deal because it's a major fan-favorite at the restaurant. I mean, let's be real: It's definitely my number one choice.
Kirk said in the release,
The DOLLAR L.I.T. is a fan favorite in our lineup of Neighborhood Drinks, and we're pumped for the summertime return of this great offer. For only one buck, our guests can get five deliciously mixed spirits in one glass. Now that's a great way to celebrate the season.
Before you plan your trip to Applebee's for the infamous DOLLAR L.I.T., keep in mind that it's available all day, every day at participating locations, according to the press release. As per usual, hours of availability may vary, and guests have to be 21 years old or over to participate responsibly. So make sure to bring your I.D., as well as a little common sense. Just don't ruin this for me, OK? I need this to continue being a regular thing for my own well-being.
This isn't the only drink deal the bar and grill has offered to its customers. For the entire month of May, Applebee's sold $2 Dos Equis, and it was pretty much the best deal I've yet to take advantage of. It lasted all month long at participating locations nationwide, and they rotated between the Dos Equis Lager with the Dos Equis Ambar. Honestly, options are the key to my heart, and for only $2, how could I resist? Let me tell you, it was the deal of the century — and although I totally miss it, Dollar L.I.T. is totally going to fill the void.
IMO, there's truly nothing better than cheap drinks... and clearly, Applebee's is well aware of that. With their ever-fabulous Dollar L.I.T. deal, I'm 100 percent going to live my very best life. This is quite honestly the best way to start the summer, and I couldn't be more ready. Drink responsibly!