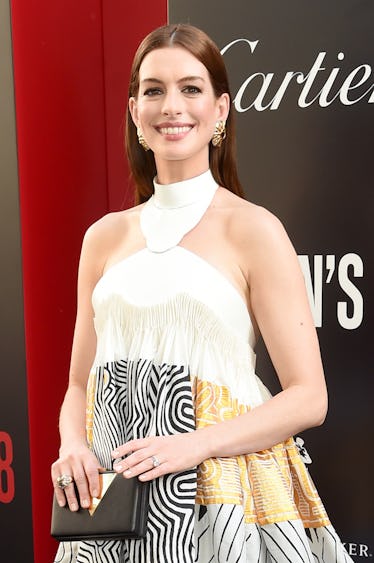 Anne Hathaway Just Made A Major Hair Change & The Color Looks Sweeter Than It Sounds
Jamie McCarthy/Getty Images Entertainment/Getty Images
One of Hollywood's most beautiful brunettes has made quite the drastic change to her look, but you better believe she still looks oh-so sweet. Ocean's 8 star Anne Hathaway's new strawberry blonde hair made its debut on Monday, June 2, while the star was on set in sunny Puerto Rico, and it's the perfect color for summer.
While most of us have become used to seeing the mother-of-one rock her traditional chocolate brown locks,The Daily Mail snapped a couple photos of the actress' new 'do while she was on location in San Juan reportedly shooting her latest project The Last Thing He Wanted. In the upcoming drama for Netflix, which is based on the 1996 Joan Didion novel, Hathaway will play the role of Elena McMahon, a journalist who turns into an arms dealer, alongside fellow Academy Award winner Willem Dafoe, who will play her father in the production.
The coppery, strawberry-blonde look was styled into a center-parted lob with loose waves, as The Princess Diaries star made her way around the set. And though Hathaway is no stranger to having fun with her locks, this particular cut and color is very similar to one she debuted back in February 2016, after filming Colossal, according to Allure.
Much like Hathaway, fellow superstar SZA also debuted a drastic change in late June when she took to Instagram to show off her red hot hair. The singer's latest auburn, shoulder-length look came as a surprise to many, as she's typically seen wearing long, voluminous jet black hair. But with the switch, the 27-year-old proved she can pull off just about any style and still look absolutely amazing.
But back to Hathaway. Hair color and the business of Hollywood aside, Hathaway has been making headlines for being vocal about body shaming. Back in early April, the star posted a time-lapse video of her working out onto Instagram. And before the body-shamers could start swarming in the comments, the 35-year-old put them right in their place.
"I am gaining weight for a movie role and it is going well," she wrote. "To all the people who are going to fat shame me in the upcoming months, it's not me, it's you. Peace xx."
She also added, "PS- I wanted to set this to Queen's 'Fat Bottomed Girls' but copyright said no. Continued peace xx."
Regardless of what any troll has to say, it seems as though Hathaway's Ocean's 8 co-star Rihanna is quite a fan of her recent weight gain. And we all know that once you get the Rihanna stamp of approval, you truly do not need validation from anyone else on this Earth.
Opening up on Ellen about pregnancy and the pressure to snap back so quickly after having a child, Hathaway bravely revealed that while she initially was "aware" of her weight gain as she walked onto the film set, she did her best to accept her body at the time. The actress also mentioned that while both Sandra Bullock and Cate Blanchett complimented her, it was RiRi's remarks that had her floored (in a good way).
"Rihanna looks up and goes, 'Damn, girl, you got an ass!'" Hathaway recalled. "And I of course was freaked out, and loved it so much. I was like, 'Really?' She was like, 'You've got an ass like me!'"
Of course, Ellen DeGeneres had the same reaction as many of us would, by saying, "Wow! That's fantastic."
As for Hathaway's latest project with Netflix, there's no word yet on when The Last Thing He Wanted will premiere. But I cannot wait to see the actress' gorgeous look on the small screen.