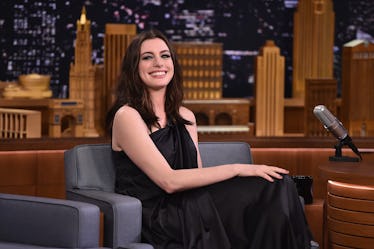 Anne Hathaway Just Shut Down "People Who Are Going To Fat Shame Me In The Upcoming Months"
Theo Wargo/Getty Images Entertainment/Getty Images
It's no secret that female celebrities are often scrutinized for what their bodies look like. And in the age of social media and internet trolling, there seems to be a particularly destructive idea that anything goes when it comes to commenting on the appearances of stars, making straight-up body-shaming an all-too-common occurrence for those who live in the public eye. It's enough of a reality, in fact, that Anne Hathaway shut down body-shamers on Instagram this week, before they even had the chance to start their BS.
In her Instagram post, Hathaway included a time-lapse video that showed her moving through a series of different workouts (and looking pretty fierce while doing so, if I say so myself), with a couple of trainers by her side all along the way.
According to the social media post, The Devil Wears Prada actress is currently preparing for a movie role that requires her to gain weight. She wrote,
I am gaining weight for a movie role and it is going well. To all the people who are going to fat shame me in the upcoming months, it's not me, it's you. Peace xx
Hatha-haters, step to the side, because this woman is not here for any of your BS.
In the post, Hathaway added with a bit of comic bite,
PS- I wanted to set this to Queen's "Fat Bottomed Girls" but copyright said no. Continued peace xx
(That is a great song, BTW.)
Hathaway hasn't yet specified the role for which she's preparing, but according to Pret-a-Reporter, she's set to star in three upcoming films, including a sci-fi thriller, a film adaptation of Joan Didion's The Last Thing He Wanted, and a remake of the movie Dirty Rotten Scoundrels.
While Hathaway's Instagram video appears to have been met mostly with warmth and positivity by her social media followers, the unfortunate reality of the world we live in is that women often feel like they need to be defensive about the state of their bodies, or that they must safeguard against the sadly-inevitable, hateful comments that tend to run rampant on social media platforms. Yes, Hathaway may have been putting the cart before the horse here, so to speak, but when you think about how hard it is to navigate these toxic territories online, you kind of can't blame her.
The same survey reported that 66 percent of teenage girls express feeling "either body negative (they're dissatisfied with their bodies) or body ambivalent (they have a love/hate relationship with their bodies)." For some women who responded to the survey, things got better as they got older, with some hitting "peak body positivity" between ages 35 and 54. But even then, that only applied to 13 percent of women surveyed.
Additionally, CNN reports that body- and fat-shaming may even be a legitimate health problem for women. The news outlet cited the results of a 2017 study published in the journal Obesity, which showed that women who believe and internalize negative messages about their bodies may be at a higher risk for heart disease than women who don't internalize these toxic messages.
In case you didn't know, this isn't the first time Hathaway's given her two cents on body image struggles.
While doing press for the film Colossal in 2017, the actress talked to ABC News about self-image and self-esteem issues that were particularly difficult for her growing up:
I disliked myself so intensely. It was just a mindset. I didn't know how to love myself.
The actress also shared with the news outlet that, with the help of loved ones, she's learned how to become a lot more comfortable in her own skin.
If you ask me, though, Hathaway's best piece of advice comes at the end of her most recent Instagram post: If you're taking time out of your day to make a negative comment about someone else's physical appearance, the problem "[is] not me, it's you."