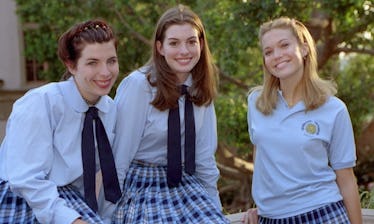 'The Princess Diaries' Is Coming To Netflix In July So You Can Channel Your Inner-Royal
Buena Vista
Practice your curtsy and brush up on your (fictional) Genovia history — The Princess Diaries is coming to Netflix July. Our streaming prayers have been answered! On the heels of Meghan Markle and Prince Harry's glorious real-life May wedding, you can finally watch another epic royal romance come to life on screen any time your heart desires. The 2001 coming-of-age classic is hitting the platform next month, so clear your schedule accordingly.
The Princess Diaries is a bonafide fave of '90s and 2000s kids alike, as it even spawned a 2004 sequel with The Princess Diaries: Royal Engagement. The first film was based on Meg Cabot's popular YA novel of the same name. Anne Hathaway stepped into Doc Martens for the lead and breakout role of high-schooler Mia Thermopolis, the clumsy outcast-turned-royal whose life is turned upside-down when she discovers her real heritage. She straightens her hair, is thrust into the spotlight overnight, and learns what she's truly capable of along the way.
Even though The Princess Diaries was Anne Hathaway's first movie and she now's now an Oscar winner who most recently stole scenes in Ocean's 8, she still has a sweet spot for the film that catapulted her to stardom. In 2016, Hathaway took to Instagram to celebrate the project's 15th anniversary, giving thanks to the late Garry Marshall for "making her a princess."
Fans of The Princess Diaries are lucky to have the movie at their fingertips shortly, but they're also still holding out for another exciting prospect... The Princess Diaries 3. A third installment of the modern fairytale has been in the works for a while now. According to author Meg Cabot's 2017 interview with Entertainment Weekly, a script for the follow-up does indeed exist. Prior to his death in July 2016, director Garry Marshall revealed he planned on making the film. He, Hathaway, and Julie Andrews reportedly skyped about the possibility at one point.
"There's talk about it," Julie Andrews told Buzzfeed last year. "And [Hathaway]'s very keen to do it. I would very willingly and happily do it."
Even This Is Us star Mandy Moore, who played mean girl Lana Thompson in the original, might be down for a cameo. The actress told Elle:
I don't think it would make sense for my character, the high school bully, to appear. Maybe I would make some quick cameo. I would like to see this woman evolve. If I'm going to be involved, I would be down for a cameo—maybe she could make amends with Mia and apologize for being a bully when she was younger. She was insecure, going through a difficult time in her life and [has now] reflected on why that wasn't okay.
While audiences wait patiently for The Princess Diaries 3 to come to fruition, at least they can catch the original on Netflix come July. Netflix's will release its full roster of new titles for next month tomorrow June 20, though subscribers can already expect some beloved originals to return. Orange Is the New Black Season 6 will hit the streaming service on July 29.
Jerry Seinfeld's Comedians in Cars Getting Coffee debuts an all-new season on July 6. The second season of the globe-trotting foodie favorite Somebody Feed Phil lands on July 6 as well.
Fireworks and cook-outs are cool and all, but when you're not standing in the sweltering sun waiting for your hot dog to grill, there's always the great indoors... Now that I know The Princess Diaries is coming to Netflix in July, I'm sure I'll be grabbing some shade with Mia, Lilly, and Fat Louie at some point.