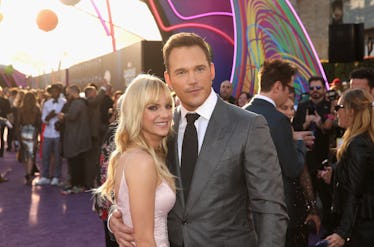 Anna Faris Responded To Chris Pratt's Divorce Comment & I Can't Handle The Feels
Jesse Grant/Getty Images Entertainment/Getty Images
The amount of recent celebrity breakups may have me doubting true love's existence, but at least these two are handling their separation like adults. On April 19, actress Anna Faris sat down with SiriusXM Hits 1 to promote her upcoming movie Overboard, but of course the topic of her divorce came up in conversation. While this could be the perfect opportunity to throw some shade at her ex, Anna Faris responded to Chris Pratt's divorce comment with nothing but respect.
During an April 18 interview with Entertainment Tonight, actor Chris Pratt declared that "divorce sucks" while discussing his split from Faris. So, while chatting with the radio station, Faris responded to Pratt's comment by saying that he's "completely right," but that the two will always have a strong friendship.
She said,
We have a great friendship. We really do. And we always have. And yeah, it's always tough to envision your future as one thing, but I think there's a lot of love.
During the interview, Faris also spoke about the pressures of having a relationship under such public scrutiny, and the struggles of being open in the spotlight.
In what we do, there's so much [unpredictability]. I think that it's a lesson learned a little bit in terms of keeping relationships a little more private potentially, even though I don't wanna. I pride myself on being a pretty open person, but I don't know. It's tough when you're under the scrutiny.
In August 2017, Chris Pratt and Anna Faris announced they would be separating after eight years of marriage. Pratt officially filed for divorce in December 2017. The couple announced their separation via social media, claiming that they "tried for a long time," but ultimately came to this decision.
The post read,
Anna and I are sad to announce we are legally separating. We tried hard for a long time, and we're really disappointed. Our son has two parents who love him very much and for his sake we want to keep this situation as private as possible moving forward. We still have love for each other, will always cherish our time together and continue to have the deepest respect for one another.
In that moment, my heart shattered, life was dark and bleak, and everything was hopeless. However, the couple has continuously praised each other throughout interviews, and clearly wish the best for one another. So that eases the blow a bit.
This is only one of a few celebrity breakups fans have had to undergo over the past year. Jennifer Aniston and Justin Theroux announced their separation on Feb. 15, literally the day after Valentine's Day.
Feeling devastated? Just wait. I'm only getting started.
Perhaps the biggest slap in my face came on April 2, when former costars and perfect couple Channing Tatum and Jenna Dewan announced that they were calling it quits. The news itself was enough to bring me to my knees, but it was Dewan and Tatum's joint statement that completely left me in shambles.
How am I supposed to live in a world where love is clearly a lie?
Alright fine. Maybe I'm being a tad overdramatic. I guess there's still some good in this world. Like, for instance, when Zac Efron adopted a dog that was about to be euthanized. The humane pet show, Bark n' B*tches shared this tale (see what I did there) via their Instagram page on April 5, starring Tilly and "some guy named Zac Efron." This might be the love story of the century.
So what if human love may be in the toilet? Puppy love is forever.