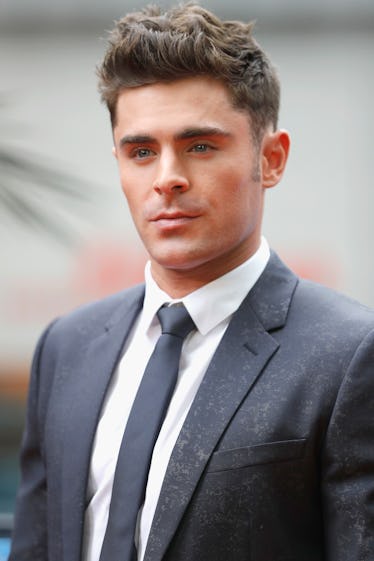 Zac Efron Adopted A Puppy That Was Going To Be Put Down & The Photo Is Everything
Andreas Rentz/Getty Images Entertainment/Getty Images
There's a new lady in Zac Efron's life, you guys, and I'm sorry for all you Zacaya shippers out there, but it's not Zendaya. The actress may have played his love interest in The Greatest Showman, but she's not the one who ultimately stole his heart. That honor goes to a girl named MACA — and OK, she's a rescue dog. Yup, Zac Efron adopted a puppy that was going to be put down because it turns out he's a real-life hero, and you have to see the photo of the two of them together because it is everything!
The High School Musical star apparently spotted the pooch (then named Tilly) at a humane pet shop in Los Angeles called Bark n' B*tches, and it was basically love at first sight. "Tilly now MACA was being led to the kill room when we stepped in and said we would take her," the store explained on it's Instagram page. "This guy named Zac Efron came in (we hear he is an actor, but we think he actually waits tables) and fell in love. He went through our application process and fostered MACA and just could not give her back."
This guy named Zac Efron came in... BAHAHAHA I love a pet store with a good sense of humor, don't you? Seriously, though, could Efron be any more perfect? Tell me this story doesn't just melt your heart, I dare you! It's all just so dramatic, and I'm really happy this amazing human stepped in to save such a beautiful angel. The former Disney star shared the same sweet pic on his own Instagram page, along with the simple caption: "Hey planet 🌎, this is MACA. #adoptdontshop."
Of course, because this is Zac Efron we're talking about here — the perfect male specimen, MACA isn't the only woman currently in his life. The actor is supposedly spending quality time with his Baywatch co-star Alexandra Daddario, though neither of them has actually confirmed their relationship. A source told People that the two have been seeing each other "on and off since their time working together on the movie last year, but they are not officially dating." Whatever that means.
Nevertheless, on March 28, the pair was spotted out about in Los Angeles, shopping with their dogs. "After browsing the aisles together, Efron helped the actress load supplies into the trunk of a white SUV," a source told the publication. What a chivalrous guy! And earlier this month, the 17 Again star posted the sweetest tribute to Daddario on Instagram in honor of her 32nd birthday.
"Happy birthday to one of the most real, down to 🌎, stunning, intelligent, creative, loving, and most rare Pokémon ever created #alexdaddario," he wrote. OK, 1) that is just the cutest thing ever. And 2) Zac really seems to dig that Earth emoji. I am totally going to start using it now, once I figure out where on 🌎 it is. (Sorry, I had to).
For her part, Daddario responded to the rumors that the two were dating almost a year ago, telling E! at the Billboard Music Awards back in May 2017, "We work together closely; he's my love interest in the film. I understand why people would go crazy over something like that, but Zac and I are very good friends. We would have very blue-eyed children, wouldn't we?"
Blue-eyed children and a house filled with adorable dogs.
Sounds like a fun place to live. Lemme know if you guys would be up for adopting any, you know, actual people. Asking for a friend.