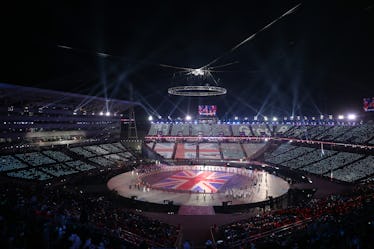 People Are Annoyed With NBC's Commentary During The Olympics Opening Ceremony
Dan Istitene/Getty Images Sport/Getty Images
The Olympics is the biggest event in the world that gathers the countries together for a few weeks of peace and friendly competition. Fans always look forward to the opening ceremony. Every location that houses the Olympics try to make the big night grander and more breathtaking than ever. While we've all been enjoying the views in PyeongChang, one thing we could do without is all the talking from NBC. Angry tweets about NBC's Olympics opening ceremony commentary prove that fans are reaching for the mute button on their remote.
It's not that we don't appreciate the extra info, NBC. Truly, we do. However, during the opening ceremony that South Korea literally took years to plan out — maybe take it easy with the less-than-fun facts.
The opening ceremony was truly gorgeous. PyeongChang already looks like a winter wonderland, so the whole theme was really fitting. It was dripping with the history of South Korea. Larger-than-life puppets in the shape of various animals, like a tiger and phoenix, danced around the arena. There were also traditional dances, drummers, and a magnificent light show to bring the whole thing home.
The performances were treats for eyes and ears, but fans were distracted by the constant chit chat from NBC. I mean, there was not one moment of silence to take it all in. Viewers on Twitter are pissed.
What do we want? To watch the Olympics without disruption. When do we want it? ASAP please, NBC.
Believe it or not, one of the coolest things about the opening ceremony is watching another country's traditions on-screen.
You know, that's just me though.
Irritating commentary aside, the Olympics are amazing. It's incredible to see all the countries come together for the love of athletics. Elite Daily had the opportunity to speak with a few Olympians about what they were looking forward to this year. Honestly, I'm excited for them all. In a way, hearing their stories makes me feel like I'm competing in the Olympics instead of sitting on the couch eating Ritz crackers.
USA hockey player Hilary Knight described the Olympics as "promoting peace through sport." She told Elite Daily at an event for Visa,
Just watching the Olympics is a no-brainer. You're promoting peace through sport. You're promoting your country as an ambassador through sport. You're impacting people's lives in a positive way.
As far as hockey this year, Knight strongly encourages people to watch. Not only is the competition fierce, but it's full of female empowerment.
She continued,
And why [watch] women's hockey? Because we have a beautiful rivalry against Canada, and we seem to always be the teams to watch. We obviously need to make it to the gold medal game, but, we are just such a fantastic group of women, and I think our country needs strong women as powerful figures. We're a team that they can rally behind.
There are so many strong female role models competing at the Olympics this year. Bobsledder Elana Meyers Taylor feels all the eyes of the world on her, and she likes it that way.
She's an Olympic vet who thinks competing is "the most fun part" of the Olympics. While promoting P&G she tells Elite Daily,
I love being up at the starting line, hearing the crowd screaming and yelling — of course, they're not always yelling for you, but I imagine that they are. That's the most exhilarating feeling I could think of is being up there, having the pressure of the world on you, and just having that moment before you're about to go. It's like a serene sense of calm that the storm's about to happen, and it's so exhilarating.
Whether you're into the Olympics for the competition, powerful athletes, opening ceremony, views of PyeongChang, or even the NBC commentary (probably someone out there) — this Olympics is shaping up to be a great one. Good luck to all the athletes.
Check out the entire Gen Why series and other videos on Facebook and the Bustle app across Apple TV, Roku, and Amazon Fire TV.