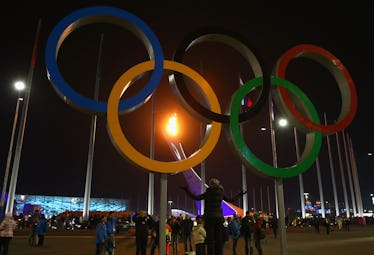 The Temperature In PyeongChang Will Make You Glad You Aren't Watching In Person
Robert Cianflone/Getty Images Sport/Getty Images
Whenever I watch the Winter Olympics, one of the first questions that comes to my mind is, "How freaking cold is it out there?" As a generally freezing human being, I often worry about the stagnant spectators who are outside watching the events for literally hours. Are they warm enough? Is everyone drinking hot chocolate? These thoughts tend to race through my mind as I grab for my blanket — and I realize that I'm vicariously cold for each and everyone out there. So, as I look forward to watching the games begin, I can't help but wonder how cold it is at the PyeongChang Olympics opening ceremony... and let me tell you, it's pretty freaking cold.
Although being able to actually be in PyeongChang as an athlete or spectator would be unbelievable, tomorrow's Olympics Opening Ceremony will, unfortunately, be relatively uncomfortable temperature-wise... sorry guys. At the time of publication, the temperature in PyeongChang is stuck around a freezing 22 degrees Fahrenheit — and tomorrow during the day, it'll be about 42 degrees Fahrenheit, with a low of 29 degrees Fahrenheit. However, the wind chill might feel like 7 degrees Fahrenheit, per the Associated Press. So if you're in South Korea and you're prepping to see the grand opening, definitely make sure to come prepared with jackets, gloves, and scarves. I'll be sitting at home drinking a cup of hot coffee and warming up in blankets.
Despite frigid temps, however, the Olympics opening ceremony never fails to always be so damn exhilarating. From getting a good look at all of the competing countries' athletes and flags, to seeing the famous lighting of the torch, the opening ceremony totally sets the anticipation for the games. It personally makes me feel so in touch with the rest of this seemingly giant-yet-simultaneously-small world, and — you can ask my roommates — I get totally invested in it. The Olympics opening ceremony is always an amazing time, and I would never miss it (even when it's at 6 a.m. in New York City, LOL).
The next Winter Olympics will probably be equally cold, as it was announced in 2017 that the 2022 Winter Olympics are going to be held in Beijing, the first city to hold both Summer and Winter Olympic Games. Seeing as the weather forecasts in Beijing currently predict temperatures between 30 and 40 degrees Fahrenheit these next few days, it's not looking like next Winter's Olympics opening ceremony is going to be much warmer than this year's. So if you plan on attending this year's (as well as the 2022 Winter Olympics opening ceremony), make sure to dress super warm. The ceremony lasts a few hours, and that's a pretty long time to stagnantly withstand some cold AF weather. Yikes.
It looks like athletes will be keeping warm during the Olympics this season, because athletes often use dating apps in the Olympic Village. According to The Independent, athletes really started using dating apps during the 2014 Winter Olympic Games in Sochi. So if the weather outside is getting a little bit frightful, the fire over Olympians' dating apps are so delightful.
So if you're planning on actually attending the opening ceremony in PyeongChang... good luck, I salute you. Even though I'd be wearing all the clothes (Joey Tribbiani-style), I know for a fact that attendees and athletes will have a once-in-a-lifetime experience (which I will be witnessing from the warm comfort of my couch). So the bottom line is to dress warm, and to get your dating apps ready — because even though PyeongChang is bound to be cold, it's about to get pretty steamy.
Check out the entire Gen Why series and other videos on Facebook and the Bustle app across Apple TV, Roku, and Amazon Fire TV.