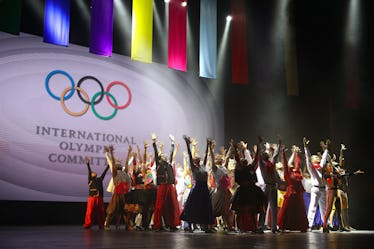 Here's How Long The 2018 Olympics Opening Ceremony Will Last, So Grab The Popcorn
Buda Mendes/Getty Images Sport/Getty Images
I love to watch the Olympics opening ceremony. It's basically the sports equivalent of the Oscars red carpet, and I have no shame in admitting that I tune in to check out (and, let's be honest, sometimes make fun of) what all the athletes are wearing. Now finally, after months of hype, it's time for the opening ceremony of the 2018 Winter Olympics at the Olympic Stadium in Pyeongchang, South Korea. Of course, these things do have a tendency to drag on. But if you're wondering how long the Olympics opening ceremony will last, I have some good news for you — the entire show is slated to run about two hours. And that's, like, the exact same length as an episode of The Bachelor, so I am totally down.
Update: The 2018 Olympics opening ceremony ran two hours and 18 minutes on the livestream, including a few short commercial breaks. In the primetime broadcast, it should last the three hours that NBC has scheduled for it, beginning at 8 p.m. ET.
Earlier: According to NBC, the event will be hosted by Katie Couric along with sportscaster Mike Tirico, and it will follow the same basic schedule as the 2014 Winter Olympics in Sochi. So that means we'll get to see the entry by the head of state, followed by the playing of the national anthem, and then the best part — the amazing parade of participants. After that comes symbolic release of doves, the raising of the Olympic flag, and then finally, the Olympic flame and the torch relay.
Ralph Lauren designed the uniforms for Team USA again this year for the sixth time, and let me just say the result is so Ralph Lauren. By which I mean the clothes — which include parkas, moto jeans, and bomber jackets — feature a patriotic red, white and blue color palette that's cooly offset by accessories like fringed brown cowboy gloves and matching suede boots with red laces.
Yeah, I'm gonna need a pair of those gloves ASAP.
Those parkas are super cute too, though, and they also look mad warm — a good thing, considering this year's opening ceremony on Feb. 9 may turn out to be the coldest one since Lillehammer back in 1994. Apparently, the $58 million PyeongChang Olympic Stadium where both the opening and closing ceremonies will be held was built without a roof as part of time-saving measures and does not have central heating because it's too expensive.
Wait, what?
This news is definitely a major bummer, considering the temperatures in PyeongChang could hover around 7 degrees Fahrenheit with the wind chill. And since PyeongChang is nearly a half mile above sea level, you can also expect biting winds. According to USA Today, thing got so bad there last month that at least six people were treated for hypothermia after a concert. Please tell me this doesn't mean we won't get to see any fun K-Pop performances — although, TBH I definitely wouldn't blame anyone for bailing. Check out the current PyeongChang situation:
Just a little chilly!
Anyway, if you want to watch the Olympics opening ceremony from the comfort (and warmth) of your own home, you can do it by turning into NBC on Friday, Feb. 9. Of course, you'll have to get up super early if you want to watch it live, since the event starts at 6 a.m ET. If you'd rather sleep in, though, you're in luck — NBC will re-air the ceremony later that night at 8:00 p.m.
Live feeds will also stream on NBCOlympics.com and on the free NBC Sports app. Oh and BTW, in case you're a little confused like I was, the 2018 Winter Olympic Games will actually start the day before the opening ceremonies, with both curling and ski jumping events on Feb. 8. That's only three days away, you guys!
Team USA all the way!