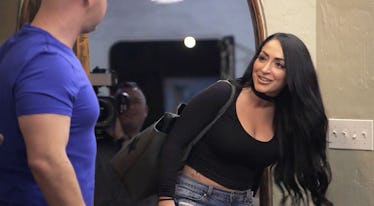 Angelina Has A Brutal Message For Fans Who Don't Want Her On 'Family Vacation' – EXCLUSIVE
MTV
Towards the end of the first season of Jersey Shore Family Vacation, Pauly D pranked his castmates by inviting an old enemy back into the house. But what started out as a prank actually turned into a surprising reconciliation... somewhat. Although Angelina Pivarnick seemed to bury the hatchet with her former Jersey Shore castmates, they still did not want her to stick around for the rest of their reunion. But the second season of Family Vacation promises much more Angelina, whether people like it or not. She knows she's controversial, and Angelina's response to haters who don't want her on the show proves that she is going to keep doing what she wants.
It is unclear just how much of Jersey Shore Family Vacation: Part 2 Angelina is a part of, but she is definitely a lot more involved this time around than in the first season. Prior to her brief visit to the Miami shore house earlier this year, Angelina had told Elite Daily that she hadn't spoken to any of her former castmates since she left Season 2 of Jersey Shore in 2010 and never returned. But after (somewhat) making peace with her castmates in Miami, Angelina is finally taking another step towards becoming a full-fledged Jersey Shore star again in the new season of Family Vacation, which will reunite the cast in Las Vegas as well as including a trip back to where it all began in Seaside Heights, New Jersey.
But of course, her castmates are not the only people that have opinions about Angelina returning to Jersey Shore Family Vacation — Elite Daily caught up with the cast ahead of Thursday night's Season 2 premiere, and they revealed that they have been seeing a ton of hate towards Angelina's return on social media. Pauly D and JWoww both said that their Instagram comments have been flooded with people asking why Angelina is coming back, but all that hate doesn't faze Angelina one bit. In fact, she wants to thank all of her haters. She told Elite Daily, "The message to the haters is that there's nothing they can do about it. So… all I know is that haters are really secretly fans, so I love them at the end of the day, so thank you to all my haters. Kisses to the haters."
Leave it to Angelina to have such a savage response. Her reply got a round of the cast's signature OOOHHHs before Deena advised her to tell the fans that they will actually grow to like her on this season of Family Vacation, potentially hinting at a redemption storyline for Angelina this time around.
So whether you want to or not, it sounds like viewers will be seeing a lot more of Angelina on this new season of Jersey Shore Family Vacation, and we might even be seeing a whole new side of her as well. Then again, as her response to her haters suggests, she is still quick to fight back.
Jersey Shore Family Vacation: Part 2 airs on Thursday nights on MTV.