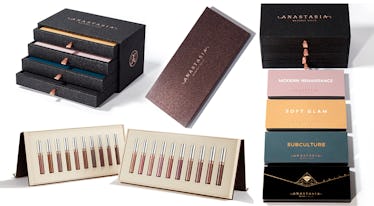 Anastasia Beverly Hills' Black Friday Sale Includes A Palette Vault & A Lip Collection, So Hold Me Back
Courtesy of Anastasia Beverly Hills
Tons of lipsticks and palettes bundled up at a discounted pricepoint? Don't mind if I do! Black Friday is almost upon us, people, and the beauty sales are off the charts. This year, Anastasia Beverly Hills' Black Friday 2018 Sale is particularly major, as the brand has created some brand new vault collections especially for the event — plus, they're giving savvy beauty lovers a chance to shop before everyone else, via online early access. If there's ever been a time to stock up on this iconic brand's much-hyped products, it's now, so start scanning swatches to determine what's worth copping before the sale goes live.
If you're one of the die-hard fans desperate to shop the sale early, you can sign up for Early Access on the ABH website. Doing so will allow you to start buying an hour before the sale goes public, which happens on November 22 at 9PM EST.
While some beauty brands offer general sitewide discounts for Black Friday, ABH has instead decided to take things a step further, and tempt us with some limited edition collections that bundle their best-selling palettes and lipsticks. First up is the Palette Collection, which will be available as a one-time launch in limited quantities exclusively on US and UK sites on Black Friday.
Behold: the Haul of Fame Collection, featuring four of the brand's most iconic eyeshadow palettes in one glittery black vault:
The little black box of goodness includes the berry-toned Modern Renaissance Palette ($42, anastasiabeverlyhills.com), the essential neutrals Soft Glam Palette ($42, anastasiabeverlyhills.com), the darker, edgier Subculture Palette ($42, anastasiabeverlyhills.com), and the luxe metallic Prism Palette ($42, anastasiabeverlyhills.com). In total, the palettes are a $168 value, but the vault will retail at only $90, making it a total steal. These will undoubtedly be selling out, so if you need all four palettes in your life, signing up for that Early Access is an absolute must.
I mean, for $90, you will literally never need to purchase another eyeshadow again. Look at this shade variety!
Maybe you've already got your hands on these palettes? There's still plenty of savings to be had. In addition to the Palette Collection, there will be two brand new Liquid Lipstick Collections offered, each featuring ten nude shades of the ABH Liquid Lipstick ($20, anastastiabeverlyhills.com).
Ten lippies equals a $200 value per kit, but each will be priced at a reasonable $60:
Two collections — one in a Light-Medium shade range, the other a Medium-Dark range — will be available while supplies last. They probably made two in differing shade ranges so that people would only have to buy their favorite, but TBH, I love any and all good liquid lips, so I'll probably end up buying both.
This sale is so good, I'm honestly considering staying home and relaxing on Black Friday, instead of partaking in the madness of the mall. After all, thanks to ABH I can snag lots of cute lipsticks and palettes online, and what more could a girl possibly want?