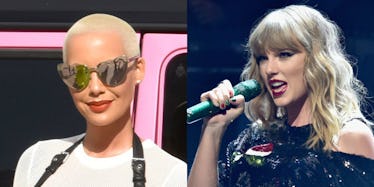 Amber Rose Went To Taylor Swift's Concert & Fans Are Convinced They're Shading Kanye
Vivien Killilea/Getty Images Entertainment/Getty Images/Theo Wargo/Getty Images Entertainment/Getty Images
Taylor Swift kicked off her Reputation Stadium Tour this month, and the singer had some extra star power at her show in Pasadena, California on Saturday, May 19. One unlikely concertgoer joined Swift for some photos before and after her concert at the Rose Bowl, and people cannot stop talking about it. Amber Rose went to Taylor Swift's concert, and some fans are convinced they were both trying to shade Kanye West.
Whenever high-powered stars like Swift do something unexpected, people immediately try to figure out what it means. You can't really blame them, though, because the "Look What You Made Me Do" singer is notorious for inserting a deeper meaning into her social media posts (like the snakes on Instagram ahead of Reputation's release). This time around, people wanted to know exactly why Rose and Swift were so buddy-buddy.
For a brief Rose-Swift relationship explainer, their connection goes back to 2009 when Rose was with then-boyfriend Kanye West at the MTV Video Music Awards (VMA) where West jumped on stage to interrupt Swift as she accepted the award for Best Female Video. It was a cringeworthy moment that is tough to forget.
With West long out of the picture for Rose, there didn't appear to be any trouble on Saturday night. Swift posted an image with Rose, Rebel Wilson, and Julia Roberts to her Instagram Story on Sunday morning, and Rose also posted a picture with Swift on her Instagram page late Saturday night. Both women seemed to enjoy one another's company in each of the photos.
Swift and Rose posed with some classic "kiss" faces on Rose's Instagram page.
If you've really been paying attention, then you know Rose's son is a huge Swift fan, but leaving their photos as some innocent concert fun wasn't an option for some fans. People wanted to know what it all means.
One fan on Twitter (@Swiftness13) listed most of the celebs (including Rose) who showed up to Swift's Rose Bowl Reputation shows, and they wrote, "Kanye West really thought he could end Taylor Swift but this weekend all these people showed up for her."
Another fan shared the same tweet also a not-so-nice message for West.
Drama between West and Swift has pretty much been a constant ever since that 2009 VMA incident. West apologized the day after the show in 2009, and Swift reportedly accepted the apology. In 2013, West seemingly took back his apology in an interview with The New York Times, when he said he only apologized because of "peer pressure," according to TIME. Cut to the 2015 Grammy Awards when Swift and West posed together ahead of West revealing plans they might collaborate.
The most recent drama between Swift and West boiled over in summer 2016 when West release "Famous," and referred to Swift as he sang, "I feel like me and Taylor might still have sex. Why? I made that b*tch famous." West said that she approved the song lyric about her, but Swift's reps claimed she never approved it. Swift then used her 2016 Grammys speech to address "...people along the way who will try to undercut your success or take credit for your accomplishments or your fame."
Then, in July 2016, West's wife Kim Kardashian West shared a Snapchat video of Swift apparently approving her mention in the song with West. Swift's social media accounts were immediately flooded with snake emojis following the video. A year later in August 2017, Swift reclaimed the snake emoji ahead of her first single release from Reputation, and she included a few tracks that throw shade at West (like some of the "Look What You Made Me Do" lyrics).
At the moment, the two don't appear to be heading toward any kind of reconciliation.
Basically, there are a lot of reasons why Swift might want to throw shade at West. Rose and West ended their relationship in 2010, but some of their ensuing interactions haven't been too pleasant. In 2012, Rose called Kardashian a "home-wrecker," according to Complex. In 2015, West said in an interview that he "had to take 30 showers before I got with Kim," after being with Rose. So, Rose might have a reason or two she'd like to hit back at West.
Even though the two women with rocky connections to West enjoyed some time together on Saturday night, the rapper didn't appear to be any part of why they were hanging out. It turns out that back in March, Swift gifted Rose's son, Sebastian, tickets to her Rose Bowl concert on Saturday night. Rose even posted a picture of Sebastian looking very excited to meet Swift at the concert, calling him "the happiest lil Pumpkin ever."
From the looks of Rose's Instagram Story, Sebastian is definitely a true Swift fan, and he adorably sang along to all of her hits throughout the night.
When it comes down to it, it seems as though Swift and Rose came together thanks to Sebastian and his love of Swift and her music. Maybe there's some West shade that isn't totally clear, but I'm very much here for Sebastian and his Taylor fandom being the reason Swift and Rose posed for some extra fun concert pics.