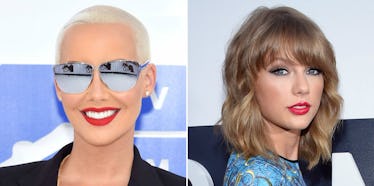 Amber Rose Clapped Back At Trolls Who Shamed Her Son For Liking Taylor Swift
Jamie McCarthy/Larry Busacca/Getty Images
Amber Rose and Wiz Khalifa's son, Sebastian, is a huge Taylor Swift fan. He's such a big fan, Swift sent him tickets to her Reputation World Tour wrapped up in a collectible box filled with Reputation goodies. It was a sweet gesture that Rose posted about on her Instagram on Wednesday, March 20. On March 21, Rose posted on her Instagram story responding to people who were making fun of her son, and Amber Rose's response to trolls shaming her son for liking Taylor Swift was right on point.
According to Rose's Instagram story, people were making comments about her son that were meant to shame him for liking the "Delicate" singer. (Mind you, this kid is only 5 years old.) In the comments section of the video Rose posted of Sebastian opening his surprise from Swift, there were some trolls saying Sebastian was "gay" (they intended for this as an insult to mean he wasn't manly enough) for liking Taylor Swift's music. Um, first of all, this child is literally 5 years old. He can listen to whatever music makes his head bop. Second, he can listen to whatever music he likes no matter his age, and third/most importantly, being gay is not an insult. To shame a 5-year-old boy for liking a "girly" artist is so backwards, not only because it's an attempt to stifle him and say he should only be one type of "masculine" man, but also because it implies that being gay — or liking anything that doesn't fit under the umbrella of masculinity as they see it — is a bad thing. And Amber Rose was having none of this.
She posted a series of messages on her Instagram story on March 21 calling out all of the people attempting to shame her son.
Her story started out with, "Shout out out to all the hyper-masculine men and ignorant dumb-ass women that will call a five-year-old gay for liking Taylor Swift." She continued,
This is why young kids kill themselves. And this is also why our society is so f*cked up. Liking a certain type of music will not make you 'pick' your sexuality you dumb f*ck. P.S. my son just got accepted into the most prestigious private school in Los Angeles because he's smart as f*ck and creative as f*ck like his parents.
She added,
Let's do better for the next generation people. Grow the f*ck up and teach ur kids to love and not hate. P.S.S. Regardless if he's gay or straight when he gets older he will be around the most amazing loving people that will support him no matter what.
And in true Amber Rose fashion, she capped things off with, "He also has more money in his bank account than any of you trolls could ever imagine Lol" and "FOH," which stands for "f*ck outta here," in case you didn't know.
Amber Rose's son's reaction to getting Taylor Swift tickets is the purest, most precious thing I've seen all week and people shaming him can exit stage left.
Look at this adorable nugget! He's so excited!
Why anyone would try to tell a 5-year-old his taste in music makes him lesser is baffling to me. HE'S 5. Let the kid be excited about going to a concert! While there were trolls in Rose's comments section, there were plenty of people combatting them with love and support for Sebastian, both on Instagram and Twitter.
People on Twitter thought Swift's surprise for Rose's son was a sweet gesture and that his reaction was beyond adorable. (That's because it was.)
Some think Swift was trying to throw some shade at Kanye West and Kim Kardashian since Amber Rose is West's ex, but I think this was all about the kid, guys.
Sebastian, I hope you have the time of your damn life with those Reputation World Tour VIP tickets. Life your best life, buddy.