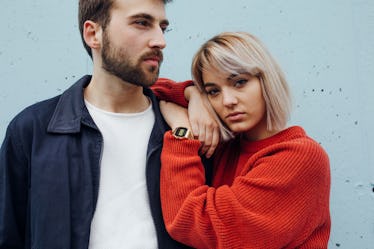 4 Small Gestures That Could Mean You're In A Love-Hate Relationship
"I hate you / I love you / I hate that I love you / Don't want to, but I can't put nobody else above you." There's no doubt about it — these gnash lyrics are straight up heart-wrenching, and that's because for many of us, they're relatable AF. If you've ever been in this kind of relationship, then you know the distinct pain and confusion that comes with being #blessed by your boo one minute and then battling them in a heated throw-down the next. It's straight-up exhausting, and it may lead you to wonder, "Am in a love-hate relationship?" Fortunately, there are ways to answer this question. All you have to do is keep a lookout for certain behaviors that may point to the volatility of your relationship.
"A love-hate relationship is often created by a partner who continually lets you down," NYC-based relationship expert and love coach Susan Winter tells Elite Daily. "You're attracted to them and enjoy being with them. They are charismatic and charming. And most definitely, the sex is fantastic."
While the chemistry may be explosive, however, there is a problematic side to this type of relationship.
"The emotion is so intense that it sparks intense feelings of hatred at times when you aren't receiving the intense love you are putting out," Susan Trombetti, matchmaker and CEO of Exclusive Matchmaking, tells Elite Daily. "Some people call it passion, but I like to think of it as two people that haven't learned how to treat each other well during disagreements that really do love each other."
Obviously, this kind of cycle can prove rather emotionally draining for both partners — but if you can recognize it, you can do something about it. So, here are some red flags to look out for that can suggest you're in a love-hate relationship.