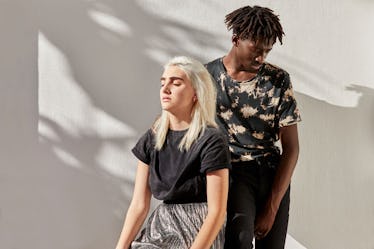 4 Signs Your On-Again, Off-Again Relationship Is Toxic — Even If You Think You're In Love
When two people fall in love, there are seemingly only a couple clear-cut paths that their relationship could take — they could stay together forever, or at some point, break up. But what about those who break up, then make up, only to break up, and then get back together soon after? As it turns out, the on-again, off-again relationship is an incredibly common phenomenon: A 2009 study published in Personal Relationships, which revealed that nearly two-thirds of participants have experienced one.
We've watched friends, celebrities (looking at you, Liam and Miley), and fictional couples go through it (shoutout to Ross and Rachel). Additionally, many of us have fallen into these cycles of on-again, off-again relationships ourselves. It makes sense: Renewing a former romance can provide familiarity and comfort right from the get-go. If you're convinced you're still in love with someone, it can feel nearly impossible to let them go for good. Furthermore, as Nicole Richardson, licensed counselor and therapist, explains, "It can be good for two people to take some space, reassess, discuss and try again."
But these perks can come at a price. Sometimes, an on-again, off-again relationship can turn into an emotional rollercoaster that wreaks havoc on one or both partners' well-being. In other words: on-again, off-again relationships can become downright toxic. In fact, the same 2009 study found that on-and-off partners were less likely to report positive relationship characteristics, such as receiving love and understanding from their SOs. Individuals engaging in this type of relationship were also more likely report the negative aspects of their relationships, such as uncertainty about the future and communication problems, than partners in consistent, longterm relationships.
"If a relationship is undergoing the cycle of on-again, off-again, then there are some additional underlying issues that need to be addressed but have been avoided by breaking up and rekindling the relationship when the smoke clears," says relationship expert and author Alexis Nicole White.
So, how do you know if your on-again, off-again romance is toxic? I asked two experts, and here's what they had to say.