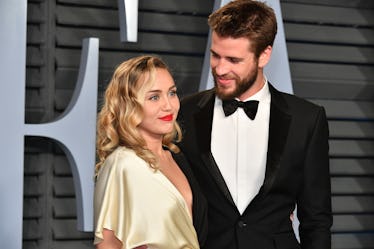 The Real Reason Why Miley & Liam May Never Get Married Is Actually So Surprising
Dia Dipasupil/Getty Images Entertainment/Getty Images
Summer 2018 will forever be known as the summer of super quick engagements. We've got Ariana and Pete. Justin and Hailey. Priyanka and Nick. These are some crazy romantic times we are living in, fam. But you know which one of my fave couples is not on that list? Miley Cyrus and Liam Hemsworth. Aw, tear. Their engagement wasn't quick (not the one in 2012 or the one in 2016 after their reconciliation). And yet, despite all the enduring rumors flying around about a canceled wedding and a breakup, apparently there's another less-of-a-bummer reason these two haven't made their trip down the aisle yet. According to this Miley Cyrus and Liam Hemsworth relationship update from TMZ, getting married isn't all that crucial to the pair, and I can't say I'm surprised. I mean, I can SO see Miley being all "Whatever, man" about tying the knot, can't you?
Sources close the couple say LiLey is still very much together, but the formality of marriage just isn't really important to them, according to TMZ. "What they view as important are ... they love each other, they're happy and enjoy each other's company. They literally laugh [breakup rumors] off." Elite Daily reached out to Cyrus and Hemsworth's teams for comment on this report, but did not hear back by the time of publication.
Sounds so chill, right? What a healthy way to look at things. And while the sources told TMZ the couple's engagement back in October 2016 was a symbol of commitment, that's apparently enough for Miley, who reportedly doesn't want to get married because she doesn't think it makes a relationship better.
I hear you, sis!
Of course, this isn't the first time Miley has announced her reluctance to say "I do." In a 2017 interview with The Sun, she revealed she didn't see herself getting hitched to Liam anytime soon because she wanted to "live a little bit more" before becoming his wife. "I don't envision marriage," she said. "I'm 24. I hope I get to live a little bit more. I have too much living to do [before I get married]."
So I guess that would make being indefinitely engaged the... best of both worlds?
Yup, I said it.
The couple first met on the set of The Last Song back in 2009, then got engaged in June 2012 before splitting up in 2013. They found their way back to each other in 2016, then got engaged again shortly afterward.
So why, then, did they ever break up in the first place? Miley told Howard Stern back in October 2017 it was because she doesn't like being co-dependent. "I don't like when relationships are two halves trying to make a whole," she explained. "I think people that break up and get back together, that's awesome. You get time to be yourself. You get time to grow up. I think if you're growing up attached to another person, you never really get solid as your own being."
Again, the girl makes a lot of sense. I'm kind of digging this new, evolved Miley, and I'm sure if these two ever feel the need to make things officially official, they'll do so in their own way, in their own time. And if that happens to involve re-enacting the Last Song mud fight scene, so be it.