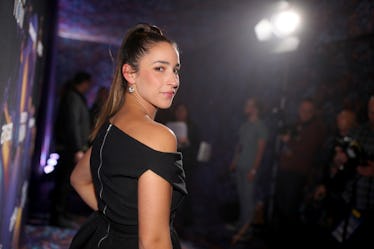 Aly Raisman's 'SI' Photo Shoot Has A Literal Message & It's Inspiring AF
Christopher Polk/Getty Images Entertainment/Getty Images
Another day, another woman absolutely crushing it. Three-time Olympic gold medalist Aly Raisman may be known for her impressive skills on the beam, but this time she's making headlines for another reason. As a part of the 2018 Sports Illustrated Swimsuit issue, Aly Raisman's Sports Illustrated photo shoot sends a strong, literal message, and it'll have you completely inspired.
The photo shoot is a part of Sports Illustrated Swim's "In Her Own Words" project, which aims to showcase women delivering empowering survival messages. This being the case, there's clearly no better choice than Aly Raisman to represent. The Olympian has openly spoken out about the abuse she experienced from USA Gymnastics doctor Larry Nassar, and channeled her experience of being a survivor into inspiring other women to speak up as well.
The photo shoot features Rasiman completely nude, with words and phrases of empowerment such as "survivor" and "fierce" written all over her body. Other phrases such as "abuse is never ok," and "women do not have to be modest to be respected" are proudly displayed down Raisman's limbs.
The 23-year old Raisman shared her thoughts with Sports Illustrated about the pressures of being a young women in society, especially concerning body image.
She said,
Women do not have to be modest to be respected. I believe that women, or anyone, should be able to wear whatever makes them feel comfortable and happy. Our society puts too much pressure on women and young girls to look 'perfect,' and we have to stop doing that. I'm proud that SI Swim is using women of all shapes and sizes with various backgrounds. Each woman in the issue has her own unique story, and I am honored to be a part of it.
Actual chills.
Raisman also spoke to Sports Illustrated about her pride in being a role model to young women, a position she doesn't take lightly.
She said,
I take the responsibility [to be a role model] very seriously. I am proud to be considered a role model, and I hope that by using my voice, I can help create change for future generations. Everyone deserves to feel safe and heard. We must listen to those that speak up and offer our help.
Twitter is seriously cheering on her on.
In the caption, she thanked the Sports Illustrated team that had made it possible, and reiterated the message. She wrote,
Women do not have to be modest to be respected— Live for you! Everyone should feel comfortable expressing themselves however makes them happy. Women can be intelligent, fierce, sexy, powerful, strong, advocate for change while wearing what makes them feel best. The time where women are taught to be ashamed of their bodies is OVER. The female body is beautiful and we should all be proud of who we are, inside and out.
Love it.
Not only is Raisman an inspiration in sports, but her strength in speaking up for others is unparalleled.
This shoot is a testament to Raisman's resilience, and especially moving after her role in speaking out at the trial of USA Gymnastics doctor Larry Nassar. The photo shoot comes nearly a month after Raisman's victim-impact statement during the Nassar's sexual abuse sentencing.
On Jan. 19, Raisman read a victim-impact statement at Nassar's trial. Not only was this a long overdue opportunity to confront her abuser, but Raisman delivered a strong and inspiriting message that resounded among courtroom walls.
She said,
Larry you do realize now this group of women are now a force and you are nothing. Tables have turned, we are here, we have our voices and we are not going anywhere, now it's time for you to listen to me. ... Imagine feeling like you have no power and no voice. Well you know what, Larry? I have both power and voice and I am only beginning to just use them. All these brave women have power and we will use our voices to make sure you get what you deserve, a life of suffering spent replaying the words delivered by this powerful army of survivors.
Nassar was ultimately sentenced to 40 to 175 years in prison for sexual abuse, as well as an additional 60 years for child pornography charges.
This isn't the first time Raisman has bared it all in order to spotlight the important message of body positivity, either. On Jan. 25, Raisman appeared alongside actress Yara Shahidi and singer Rachel Platten as a part of Arie's #ArieReal campaign. The campaign featured untouched and unedited images of the trio to promote positive body and self image.
Whether it's at the Olympics, in the courtroom, or on a photo shoot set, Raisman will always slay. You go girl.