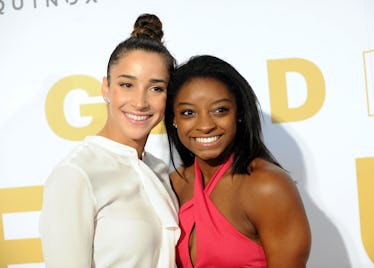 Aly Raisman Spoke About Giving Her Nassar Statement In Court & It's Devastating
Emma McIntyre/Getty Images Entertainment/Getty Images
On Wednesday, Jan. 24, former USA Gymnastics doctor Larry Nassar was sentenced to 40 to 175 years in prison on 10 separate counts of criminal sexual conduct. Nassar's sentencing hearing lasted seven days as over 150 young women gave public statements in court detailing their account of sexual abuse by Nassar. Among those 150 young women was 23-year-old Olympic gold medalist Aly Raisman, who said delivering her Nassar statement made her "sick."
Raisman publicly accused Nassar of sexual abuse back in November 2017. She claimed the abuse of his medical treatments started when she was just 15 years old, during her Olympic training sessions at a facility in Texas. Months later, during his sentencing hearing, Raisman gave an emotional and intense victim impact statement while looking directly at Nassar. Upon hearing Nassar's prison sentence, Raisman did an interview with The Today Show talking about the aftermath of the court hearing and her new book, Fierce.
During the interview, Raisman compared the feeling of competing at the Olympics to the moments before she gave her impact statement. She said, "In that moment, I almost felt like I was going to compete. Because at the Olympics, you block everything out and in that moment, I blocked out everything."
She went on to say that afterward, she was "sick." Raisman said, "I almost passed out. I had the worst headache for hours. It made me literally sick, all the stress and the trauma. But for that moment I had to be strong. I'm very very exhausted from it."
Asked whether she believed justice had been served, Raisman said, "No... it's not something where you just instantly feel better."
To Raisman, Nassar going behind bars was just the start. The 23-year-old has been vocal about the fault that she feels lies with the USA Gymnastics association as whole for being complicit. During the interview, she called for the United States Olympic Committee (USOC) and Michigan State University (MSU), where Nassar had been a doctor, to be independently investigated.
Senator Jeanne Shaheen also called for an investigation on USA Gymnastics and the USOC in a letter sent to Senate Majority Leader Mitch McConnell and Senate Minority Leader Chuck Schumer just hours after the sentence on Jan. 24.
"This is bigger than Larry Nassar," Raisman said. "We have to get to the bottom of how this disaster happened."
In response to the sentencing, the USOC issued a statement to Team USA apologizing to the Nassar victims and detailing their support to change the culture of sexual assault in gymnastics. Part of the statement read, "I know this apology is not enough. We have been working on taking steps at the USOC and mandating changes among National Governing Bodies to ensure this does not happen again."
Judge Rosemarie Aquilina's decision to welcome victim impact statements and listen to the accounts of over 150 young women has brought widespread media attention and praise for her job well done. During her sentencing statement on Wednesday Jan. 24, Judge Aquilina said, "And I want you to know, as much as it was my honor and privilege to hear the survivors, it is my honor and privilege to sentence you. Because, sir, you do not deserve to walk outside of a prison ever again. You have done nothing to control those urges and anywhere you walk, destruction will occur to those most vulnerable."
Members of the USA Gymnastics Board of Directors have resigned in light of the accusations this month, and the president and CEO resigned last year. Raisman has made it clear that what has been done thus far is not sufficient enough for her.
"We are an army of survivors and this is just the beginning for us," Raisman said. There is still much to be done to correct and change the deep-rooted problem that is sexual assault."