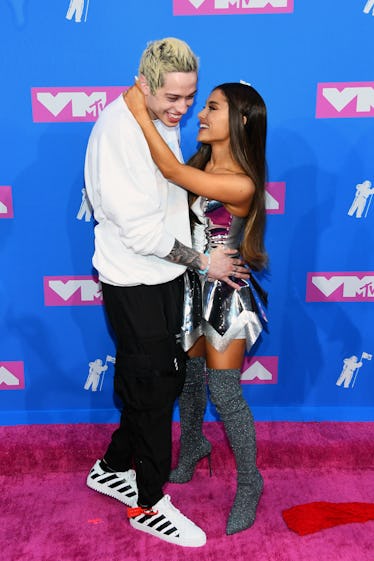 All The 'Sweetener' Lyrics About Pete Davidson That Prove He's Ariana Grande's Soulmate
Nicholas Hunt/Getty Images Entertainment/Getty Images
If you've listened to Ariana Grande's newest album, Sweetener, then you're already obsessed with it, and don't even try to tell me otherwise. On Aug. 17, Grande pretended that it was actually Christmas morning and released her highly anticipated fourth album, and nearly every song proved that this might just be her best one yet. There are so many incredible tracks that are filled with emotion, but these eight Sweetener lyrics about Pete Davidson are proof that these two are the ultimate soulmates, no matter how long they've been together.
Now if you're thinking that the only song where Ariana Grande shows love for her fiancé is on the song that's aptly named "Pete Davidson," you totally have another thing coming, people. While some songs don't flat-out tell the listener that Grande is singing about Davidson, it's still pretty obvious from the lyrics that they're *definitely* about the love of her life.
Let's dive in, fam.
You simply can't tell me that this song doesn't have Pete Davidson's name all over it. In the chorus, Grande and Williams sing,
There is somethin' between us, I can see it right now, Your magnetic demeanor, that's something can't be found, I thought that I was dreamin' 'til my love came around, Now I just come on over, show you how we get down
Then, Grande sings,
I can't believe that you are here, I can't believe it's happening, What are the odds that you'd appear? The universe so vast to me, Seven billion is on the Earth, Could've been anywhere, but you're here with me
It's obvious that Grande is beyond fortunate to have found her love in this vast universe, and these lyrics are definitely proof of that.
Ariana Grande told the story of how she first met Pete Davidson, and revealed that she knew she wanted to marry him from that moment on. She went on The Tonight Show on Aug. 16 and told Jimmy Fallon, "I'm not a crush-y person ... but I left and I jokingly said to my tour manager, 'I'm marrying him, 100%.' I was like, 'I'm literally marrying him.'
And honestly, I feel like "R.E.M." is the perfect depiction of her interaction with him when they first met. She sings,
'Excuse me, um, I love you' I know that's not the way to start a conversation, trouble I watch them other girls when they come and bug you, But I felt like I knew you, so I just wanted to hug you, Plus you don't know your way around, You can stop your playing now, All your worries, lay 'em down, shh, don't say it loud, Is this real, baby?
And if that doesn't totally sell you, then perhaps her lyrics later in the song will sway your opinion. She sings,
But I just want to stand and yell, I will never dare to tell, Think I heard some wedding bells, shh, keep it to yourself, Is this real?
Technically, Queen Beyoncé was the first artist to sing this bop, but that doesn't mean Grande wasn't channeling her love for Davidson into her vocals. Telling someone that she loves them? Hearing wedding bells? C'MON. I don't need anything further, your honor. I rest my case.
Yes, this song is about female empowerment and is the ultimate Girl Power jam, as noted by Grande herself in a tweet to one of her fans who asked what "God Is A Woman" is about:
But! The lyrics sort of represent a woman's relationship not only with herself, but with the person they're with, too (ahem, Pete Davidson). In the song, Grande sings,
You, you love it how I move you, You love it how I touch you, my one, When all is said and done, You'll believe God is a woman, And I, I feel it after midnight, A feelin' that you can't fight, my one, It lingers when we're done, You'll believe God is a woman
Later in the song, she sings,
I tell you all the things you should know, So baby, take my hands, save your soul, We can make it last, take it slow, hmm, And I can tell that you know I know how I want it, yeah, But you're different from the rest, And boy, if you confess, you might get blessed, See if you deserve what comes next, I'm tellin' you the way I like it, how I want it
I don't know about you, but I think that Grande is talking about Davidson when she says that "you're different from the rest," considering he's the man she's walking down the aisle with. Sorry, you guys, but I can't be wrong.
This song's lyrics mention ~marriage~ once again, which leads me to believe that fiancé Pete Davidson was in mind when Grande was writing this one. She sings,
You know I'm the wifey type, babe, You know I be one of a kind, oh whoa, Once you tastin' my ice cream, I bet you won't ever leave, I know it's hard to believe, Boy, you got me all on my knees (Light it up, though, light it up, though), It ain't too hard for me (Light it up, though, light it up, though) Stop playing, too hard for me
Grande is totally the "wifey type"... well, only if you're Pete Davidson. But still, the fact that she's singing about being someone's wife gives us no other choice than to assume this track is about Davidson as well.
This is really the only song that is undisputedly about Pete Davidson, not only because the song name is... well, his name, but because Grande herself spoke to her fans about him being the inspiration behind the lyrics.
When a fan on Instagram commented on Grande's post back on July 20, claiming that Grande making a song for Davidson was a mistake, Grande responded in the perfect way, writing, "He's my fiancé. This is my album. I'm an honest and emotional artist and human being and if my openness in my work isn't for you, that's OK; I won't be offended. Still wishing y'all all the love in the world."
God bless Ariana.
And honestly? The song "Pete Davidson" is actually a really beautiful one, and the lyrics are beyond sweet. Grande sings,
I thought you into my life (whoa), look at my mind (yeah), No better place or a time, (Look!) how they align, Universe must have my back, fell from the sky into my lap, And I know you know that you're my soulmate and all that, I'm like ooh, ooh, my whole life got me ready for you, ooh, ooh
And of course, once the world saw those lyrics, we immediately recognized them as her caption for the ultra-famous (in my opinion at least) picture of the couple together at the beginning of their relationship that Grande posted to Instagram back in May:
Be still my cold, black heart.
So the next time you listen to Sweetener, just remember that what you're listening to is essentially an album filled with love songs Ariana Grande dedicated to Pete Davidson. Proof that love is truly alive and well, folks.