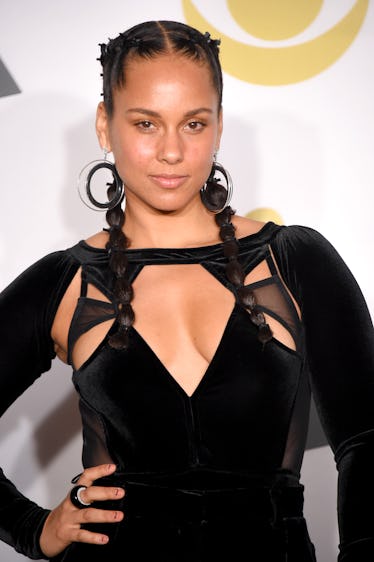 Alicia Keys Just Debuted A Major New Hairdo & Seriously, This Girl Is On Fire
Michael Loccisano/Getty Images Entertainment/Getty Images
This girl's hair is on fire. Alicia Keys' short red hair just added some serious heat to my newsfeed. On Thursday, July 19, the singer revealed that she's taking a break from her go-to braids and is now rocking a short, asymmetrical, scarlet-hued 'do. And TBH, I'm totally here for the fresh cut. Don't get me wrong, I love Keys' typical take on beauty: From her makeup-free moments to flawless skin to long, waist-grazing box braids, the girl can do no wrong. But there's something about this new chic, red bob that the singer chose to transition to mid-summer that has me drooling.
In a caption-less Instagram post, the singer's featured rocking the fresh cut against a purple backdrop with pink-toned lighting, while also wearing light pink lingerie. Now, I'm desperately trying to piece together the context for the cut. Does new hair mean new music? The past few months have definitely been full of exciting new album drops, so will Keys be the next artist to bless our playlists this summer? Who knows, though. Maybe she's simply sick of the heat and humidity and needed a shorter cut to stay cool for the rest of the summer (in which case, hard same).
Regardless of the reason, I'm loving the short tresses, and by the looks of the comments on the Instagram post, I'm not the only one. Fans, fellow celebrities, and even Keys' hubby, Swizz Beats, commented on the pic expressing their infatuation with the musician's new look. Swizz Beats' comment was short, but to the point: "Wow👀." Other fans went on to hype Keys up in the comment section: "This girl is on fire ❤️" commented one user.
To get to the bottom of Keys' transition from rocking natural curls and long braids to a shorter, more structured look, I did some searching through two of her hairstylists' pages for clues as to what the singer could be up to. I scoured both Lacy Redway's and Marcia Hamilton's Instagram pages to see if there was any trace of behind-the-scenes footage from a recent shoot that resembled Keys' post, but alas, I found nothing. Both stylists have been responsible for the singer's mane in the past, but as of right now, they show no sign of being linked to her new 'do. Most recently, Hamilton posted an image of Keys rocking her natural, textured curly hair on June 26 with the captio, "Texture Life," but as we can see, the singer has opted for a sleeker, straighter, and brighter mane since then.
While Keys has changed her hair, one thing does still remain the same: her flawless complexion. Only augmented by the the pinkish lighting against a purple backdrop, Keys' glowing skin continues to shine through, sharing the stage with her impeccable new style. So while I anxiously wait for more clues as to what the new 'do could mean and whether or not she'll be dropping new music, I'll just sit here in awe of this truly unbelievable being.