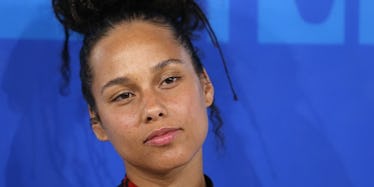 The Internet Is Very Divided Over Alicia Keys Wearing No Makeup To The VMAs
REUTERS
If you watched the MTV VMAs this year, then you noticed Alicia Keys bearing a fresh, makeup-free face as she walked the red carpet.
While many people formed their own opinions about the 35-year-old singer's latest "stunt," they failed to realize that Alicia Keys actually has a very good reason as to why she stopped wearing makeup in the first place.
Keys wrote a heartfelt statement for LennyLetter back in May to announce that she'd no longer be wearing makeup -- but why?
Well, her sole purpose for the big decision was to break the mold that society has created about what it means to be beautiful.
The letter, titled "Time to Uncover," reads,
Every time I left the house, I would be worried if I didn't put on makeup: What if someone wanted a picture? What if they POSTED it? These were the insecure, superficial, but honest thoughts I was thinking. And all of it, one way or another, was based too much on what other people thought of me.
After realizing why she was always so concerned about applying makeup before leaving her house, Alicia Keys found ways to be happy and comfortable in her own skin regardless of what she was wearing -- and the VMAs this year were no exception.
The letter continues,
I found my way to meditation, and I started focusing on clarity and a deeper knowing of myself. I focused on cultivating strength and conviction and put a practice in place to learn more about the real me. And I promised I would approach things differently this time regarding my image and allow my real self, as is, to come through.
Here's a photo she snapped inside Madison Square Garden with Jaden Smith.
In short, Alicia Keys just doesn't want to "cover up anymore," for anyone, not even herself. She added,
Not my face, not my mind, not my soul, not my thoughts, not my dreams, not my struggles, not my emotional growth. Nothing.
You have to respect it. I mean, come on, what other celebrities use their platform to express that some of the ideals that society holds high actually mean nothing?!
It's about YOU and Alicia made that clear in her letter and at the VMAs this year.
Regardless of her bold move to inspire others to embrace their own beauty, the wonderful people of Twitter-land seem to share mixed views on Alicia Key's decision to go bare-faced everywhere she goes.
When Alicia Keys showed up to the VMAs wearing no makeup, most people showed their support for her.
Most viewers watching the VMAs had nothing but nice things to say about her #NoMakeup appearance.
Can you blame them? She looked stunning.
Indeed.
Believe it or not, however, a few people out there think otherwise.
Ouch!
Some people just don't understand.
But hey, everyone's entitled to their own opinion.
The controversy seems to be revolving around the fact that people think Alicia Keys is trying to get everyone to stop wearing makeup -- but they're wrong.
It seems like they missed the point of her message.
They took it pretty personally.
Others believe the no-makeup trend caters to one type of person.
Her message was really so simple, though.
Luckily, the vast majority of responses received after Alicia Keys' no-makeup stunt at the VMAs were in support of her.
In other words, you don't have to understand it.
Alicia Keys took to Twitter to set the record straight.
If Alicia Keys was trying to influence people in any way, it all comes down to one thing -- do what makes you happy and live for you, not for others.
The Twitter reactions stemming from Keys' no-makeup stunt prove that people will always have their opinions and no matter what they are, none of them actually matter.
I think it's safe to say Alicia got her point across!
Citations: Alicia Keys Went to the VMAS Without Wearing a Drop of Makeup (US Magazine)