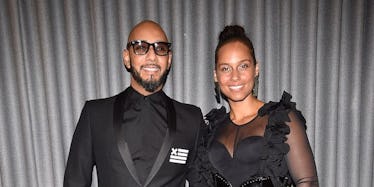 Why Alicia Keys And Swizz Beatz Are The Pure Definition Of Relationship Goals
Kevin Mazur/Getty for Brooklyn Museum
Now that Barack and Michelle are gone from the White House, a lot of us are feeling a little bummed out.
They look like they're having a blast on vacation and all, but we miss seeing all those romantic, #relationshipgoals moments, like the time he just looked at her with dreamy eyes at a White House State Dinner.
But fear not, my lovelorn mignons.
I met a couple this week at the Brooklyn Artists Ball that totally reminds me of that kind of (former) FLOTUS and POTUS sweetness: Alicia Keys and Swizz Beatz.
Now yes, I know you may be thinking: he already had a family. No-one can deny that. But these two seemed pretty happy.
Of course, she's won 15 Grammys, has sold over 35 million albums and has 30 million singles worldwide.
And she made headlines for being entirely herself after penning an essay to Lenny Letter last year in which she said,
I don't want to cover up anymore. Not my face, not my mind, not my soul, not my thoughts, not my dreams, not my struggles, not my emotional growth. Nothing.
And this wasn't just a one-time publicity stunt. She's gone makeup-free as a coach on "The Voice," and trust me, after seeing her fresh, flawless face in person, I know doesn't need the face paint.
But, her man's no slouch, either. We know Beatz — born Kasseem Dean — as a Grammy Award-winning producer.
He's also enrolled at Harvard Business School, and together with Keys, he's involved with the Keep A Child Alive foundation to help children orphaned by AIDS.
What impressed me most about watching them was how they were so intimate with one another in such a big room.
They addressed their comments to all of us, and yet at the same time, it was like nobody else was there.
He called her a "beautiful flower" in front close to a thousand people attending the museum gala, where they were both honored.
I mean, who doesn't want that? They straight-up gave me the feels.
She kissed him sweetly on the cheek for pics, and they hugged and held hands like two high school teenagers.
They were looking out for one another on that big stage, where they were jointly honored for the way they give back.
They recalled how each is a child of New York — she from Hell's Kitchen, and he from the Bronx — and asked artists (and supporters) to continue to inspire and support one another in NYC and beyond.
In addition to being a museum trustee, part of Beatz's ties to art include his new contemporary art initiative called The Dean Collection, billed as a home for contemporary art and a place where young art enthusiasts can gain access to the art world, learn, connect and grow.
And of course, these two know a thing or two about what being a young and aspiring artist is like. They were them, and — mind you — they have two kids of their own at home.
It's no surprise that Beatz is also involved in the Bronx Charter School for the Arts and the Children's Rights Organization, which lends legal services to protect the rights of foster children.
But why am I crushing on them so hard?
You could say it's all for their images, that celebs do nice stuff to get noticed and not be seen as the bad guy.
But I'm not feeling that.
I've met lots of celebrities and celebrity couples. This time, there was something genuine here.
You could call it authentic, and you felt it.
You could call it art. You could call it love. But they're just too darn cute together.
While they may mainly keep out of the public eye and keep their private lives pretty private, even a glimpse of the real thing can be pretty damned inspiring.
And for now, these two are my new relationship goals: cute, creative and smart.