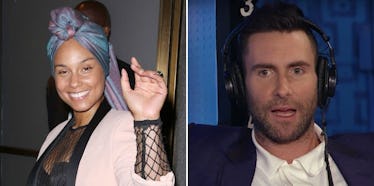 Alicia Keys Claps Back At Adam Levine After He Calls Her Out For Wearing Makeup
REX/Shutterstock/Youtube
Alicia Keys doesn't take crap from anyone, and that includes her co-host on "The Voice," Adam Levine.
Here's the thing: Most of the time, the 36-year-old Grammy-award winning Alicia Keys doesn't wear any makeup.
But sometimes, she does want to wear a little bit of makeup, and if people — like Adam Levine — decide to give her shit for that, she is going to shut them down... which, according to Levine, is exactly what happened.
The 38-year-old Maroon 5 singer had a radio interview on the Howard Stern Show earlier this month, where he told the story of the time he tried to gently tease Alicia for putting on makeup ("tried" is the operative word here).
Levine said,
I joke around with her. She's, by the way, so great. She was putting on a little bit of makeup, and I was like, 'Oh, I thought Alicia doesn't wear makeup.' And she's like, 'I do what the fuck I want.' And I'm like, 'I love you so much.'
YES! Shut that man down. This girl is on fire!
Kudos to Levine to being a good sport about it too, and also kudos to his surprisingly good Alicia Keys impression.
These days, Keys is pretty famous for not wearing makeup, especially after last year's MTV Video Music Awards.
A month before the award show, the singer wrote a heartfelt Lenny Letter explaining her decision to go makeup-free,
She wrote,
Every time I left the house, I would be worried if I didn't put on makeup: What if someone wanted a picture? What if they POSTED it? These were the insecure, superficial, but honest thoughts I was thinking. And all of it, one way or another, was based too much on what other people thought of me.
Then, true to her word, she showed up on the MTV red carpet au natural.
I don't know about you guys, but I think she slayed it.
And I'm sure she also slays the makeup look, too, when she chooses to put some on.
It's like she said — Alicia Keys does what the fuck she wants.
Citations: Alicia Keys Had The Best Response When Adam Levine Called Her Out For Using Makeup (BuzzFeed)