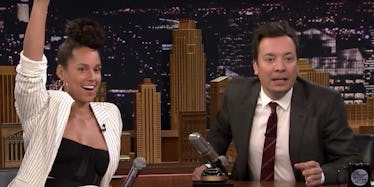 Alicia Keys Slays Adele Impersonation While Singing ABCs On 'Tonight Show'
YouTube
Alicia Keys' rendition of the alphabet song will leave you in tears.
If you're unfamiliar with Jimmy Fallon and "The Tonight Show"'s musical impression generator, the concept is pretty simple.
Music people come on the show, spin an imaginary, DEF NOT PRE-DETERMINED, wheel of songs and then perform whatever combination the DEF NOT PRE-DETERMINED wheel spits out.
Alicia Keys is the latest artist to take a go 'round on the MIG, and it was absolutely magical.
Her night on the musical impression generator started with an impression of Gwen Stefani singing "Miss Mary Mack." Easy stuff. Gwen Stefani has a very distinct tone in her voice that is pretty easy to at least partially mimic.
Her second song, however, was not as easy. Singing anything like you have Adele's sloppy clean vocal chords in your throat is near impossible. Having to map the alphabet song onto "Hello" is a suicide mission for most people.
Thankfully, Alicia isn't most people. She absolutely killed it.
Fallon even quipped,
I would buy that song tomorrow!
That is nice of Fallon to say, but something tells me he walks through life being excited about everything.
Like, I bet it takes him several hours to walk through Bed, Bath & Beyond just because the entire time he's yelling stuff like, "A SODA MAKER?!?! FOR YOUR HOUSE!!! I WOULD BUY THAT!!!"
The question about Gwen's performance, though, is how does this rank amongst Jimmy Fallon's other musical impression generator guests?
Alessia Cara absolutely nailed her Ariana Grande and Nicki Minaj impressions...
... while Ariana Grande slayed her own turn on the generator.
The men have also been bringing the MIG thunder when they've gotten their chance.
If you haven't seen Jamie Foxx's John Legend, you are missing out on life.
Same goes for Adam Levine's... everything.
WHO DA BEST?!?!
Citations: Alicia Keys Imitates Gwen Stefani, Adele on 'Wheel of Musical Impressions' 'Tonight Show' Sketch (ET)