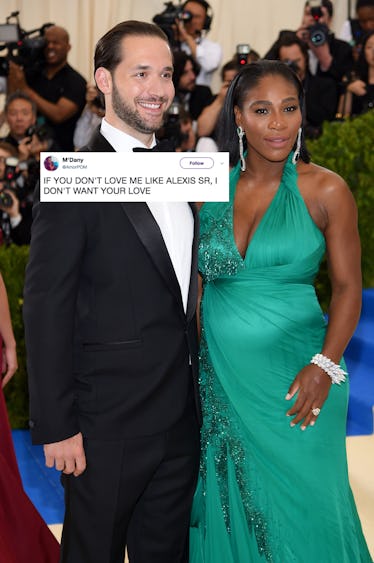 Serena Williams' Husband Got 4 Billboards For Her Tennis Return & Fans Are Crying
Dimitrios Kambouris/Getty Images Entertainment/Getty Images
You don't have to be a diehard tennis fan to know Serena Williams is a champion. I mean, the woman has been in a Beyoncé music video, for Christ's sake. Oh, yeah, and then, there's also the tiny little factoid that she just so happens to be one of the greatest female athletes of all time. She also didn't bother with marriage and starting a family until she met the love of her life, who also happens to be a billionaire. Basically, she crushes everything she does. And now, Alexis Ohanian's billboards for Serena Williams' return to tennis go to show motherhood is just another thing she's winning at.
If you haven't been keeping up with Williams' personal life, let me catch you up a bit. Back in September of 2017, Serena gave birth to her daughter, Alexis Olympia Ohanian Jr., whom she had with husband Alexis Ohanian, AKA the co-founder of Reddit. Since then, she's taken some time off from tennis to focus on her family and be with her daughter. And, I mean, of course, she had to take some time off for all kinds of totally normal, new mom stuff, like, you know, posing with her sweet little baby on the cover of Vogue.
No, seriously. That actually happened.
Yep, just as literally anyone would have guessed, Williams is championing motherhood just like she champions literally everything else.
Just look at this picture she posted of her and her daughter, with the caption, "Just how I look at her." DOES THIS NOT GIVE YOU ALL THE FEELS?
They even take adorable selfies with hilarious captions: "She's like 'Mommmmmmmmmmm my friends are looking' #freshfaces."
Just look at the happy family!
Now, I don't know Williams personally, so I can't say for sure, but I'm going to guess that, based on all of these super adorable family photos, not being with her baby full time so she can return to tennis is not going to be easy.
However, that time has finally come, as Williams is finally coming back to the tennis world for the first time since she won the Australian Open back in January 2017. You know, the tournament she just casually won while pregnant. Now, she's moving on from her time off with her family to train for the BNP Paribas Open. The tournament is going to take place from March 5 to March 18 in Indian Wells, California, according to their site.
Luckily, she has her superfan of a husband by her side to make the transition back feel as warm and welcoming as possible. While most spouses would settle for a friendly card or maybe a nice celebratory text, Ohanion went with a larger-than-life symbol of his support for his wife's return.
Just how big did he go? Well, he bought not one, not two, not three, but four billboards in Palm Desert, California (just an eight-minute drive from Indian Wells). WHEN WILL YOUR PARTNER EVER?
He posted pictures of the billboards on Instagram, along with the caption:
These just went up on alongside I-10 into Palm Springs. @olympiaohanian & I wanted to welcome her back to tennis. Designed them myself, with some help from Jr. #GMOAT
If you scroll through his pictures, you'll see the first billboard says "GREATEST"; the second says, "MOMMA"; the third says, "OF ALL TIME"; and finally, the fourth says, "Serena Williams G.M.O.A.T -Alexis Jr. + Sr," along with an adorable picture of Serena holding her baby against her chest.
Needless to say, people on Twitter are loving it.
It's literally bringing them to tears.
He's just raised the bar for husbands across the nation.
OK, BRB, gotta go find my own hopeless romantic billionaire to fall in love with.
Check out the entire Gen Why series and other videos on Facebook and the Bustle app across Apple TV, Roku, and Amazon Fire TV.
Check out the "Best of Elite Daily" stream in the Bustle App for more stories just like this!