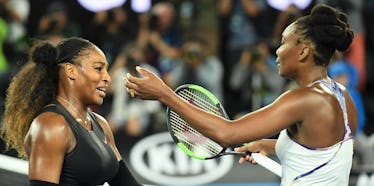 Venus Williams' Speech After Losing To 'Little Sister' Serena Will Make You Cry
REX/Shutterstock
Like, FOR SURE, we'd all love to be Serena Williams, but after an incredibly moving, affectionate and graceful speech after losing the Australian Open Championship to her little sister, Venus Williams just might be my new superhero.
On Saturday, Serena championed over Venus, beating her in straight sets to take home her 23rd Grand Slam title.
After the match and a long hug, Venus took the podium to thank God and her family and to praise Serena for all of her accomplishments and achievements.
Venus began, "Serena Williams. That's my little sister, guys," to enormous applause.
She continued,
Congratulations Serena on number 23, I have been right there with you. Some of them I have lost against you. I guess that's weird but it's true. But it's been an awesome thing, your win has always been my win, I think you know that. And all the times I wouldn't be there, couldn't be there or didn't get there, you were there. I'm enormously proud of you, you mean the world to me.
UGH. VENUS. YOU BEAUTIFUL POET.
Following Venus, Serena was called to the podium as "the legendary Serena Williams," and echoed back her sister's sentiments of love and support.
She said,
I really would like to take this moment to congratulate Venus, she is an amazing person. There is no way I would be at 23 without her, there is no way I would be at one without her, there's no way I would have anything without her. She is my inspiration. She's the only reason I am standing here today and the only reason that the Williams sisters exist, so thank you Venus for inspiring me to be the best player I can be and inspiring me to work hard... She deserves an incredible round of applause... and I don't like the word comeback, she never left.
I cried. You cried. We all cried.
The win gears Serena up to take the No. 1 ranking and gives her the Open Era record for career Grand Slams.
Citations: WATCH: Venus, Serena show sisterly love in Australian Open podium speeches (Sports Illustrated)