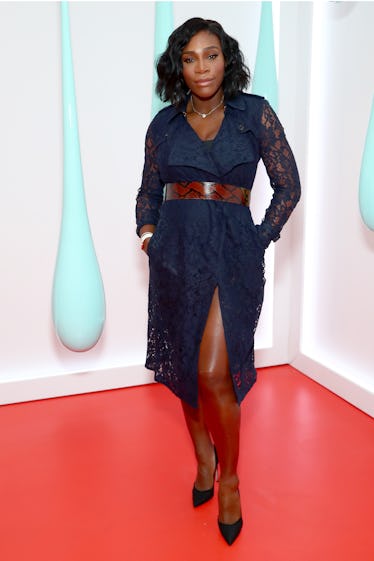 Serena Williams Posed On The Cover Of 'Vogue' With Her Baby & The Photo Is So Precious
Astrid Stawiarz/Getty Images Entertainment/Getty Images
If 2018 is anything like 2017 for Serena Williams, then I'd say she's in for one stellar year ahead of her. Because, you know, winning the Australian Open while pregnant, having a baby, and getting married in the span of a year is pretty fantastic. When Williams announced that she and her husband, Reddit co-founder, Alexis Ohanian, welcomed daughter Alexis Olympia Ohanian, Jr. into their lives on Sept. 1, the world rejoiced because this baby is clearly destined for greatness. And, considering the fact that she's on the cover of Vogue while not even being a year old is proof that, yeah, this baby is absolutely destined for great things. If you haven't seen it, Serena Williams' and her baby's Vogue cover will make you weep tears of joy, because it is just that damn beautiful.
In case you're like, "Hold up, Serena Williams got married and had a kid?," let me give you a quick overview.
On April 19, Williams took to Snapchat and posted a selfie, showing off an itty-bitty baby bump, revealing to the world that she was 20 weeks pregnant, and fans freaked the hell out. Except, LOL, Williams accidentally sent that Snap out and didn't even mean to tell the world that she was pregnant just yet:
At a TED Talk with Gayle King, Williams discussed the silly error. She said,
I was on vacation, taking time for myself and I have this thing where I've been checking my status and taking a picture every week. I've been just saving it, but you know how social media is – you press the wrong button and…My phone doesn't ring that much, and 30 minutes later, I'd missed four calls. So I picked it up and realized, 'Oh no.'
Oops.
But it was all good. She later revealed she was going to announce the pregnancy pretty shortly after anyway.
Some people did the math, however, and realized that if Serena Williams was 20 weeks pregnant, that meant that our girl WON THE AUSTRALIAN OPEN while also growing a human.
(Seriously though, WTF, guys?)
So in September, Williams gave birth to her daughter, and the world got a glimpse of the beautiful Alexis:
Crying.
But hey, let's talk about #goals for a second. Australian Open? Check. Baby? Check. Only one box left to check off, and that's marriage.
Check.
Check.
Check! Serena slays in a wedding dress, and there's literally nothing she can't do.
So, OK, Serena is basically queen of the world, so she can just sit back and relax now, right? NOPE.
Girl is on the cover of Vogue with her daughter, crushing life and looking like royalty:
First of all, can we talk about how SLAMMIN' Serena looks in that red getup? And we can't even deny the fact that most of our focus goes to little Alexis Olympia, looking like the squishiest little baby we ever did see.
In her interview, Williams got very candid about life now that she's a mom, as well as how it's changed her career. She said,
Now that I'm 36 and I look at my baby, I remember that this was also one of my goals when I was little, before tennis took over, when I was still kind of a normal girl who played with dolls.
She added that she thinks having her daughter may actually help with her anxiety about her tennis matches. She said,
Maybe this goes without saying, but it needs to be said in a powerful way: I absolutely want more Grand Slams. I'm well aware of the record books, unfortunately. It's not a secret that I have my sights on 25 [Grand Slam victories]. And actually, I think having a baby might help. When I'm too anxious I lose matches, and I feel like a lot of that anxiety disappeared when Olympia was born. Knowing I've got this beautiful baby to go home to makes me feel like I don't have to play another match. I don't need the money or the titles or the prestige. I want them, but I don't need them. That's a different feeling for me.
Superstar athelete. Superstar mom. Is there anything Serena can't do?
The answer to that is a very firm no. Who run the world? Serena, obviously.