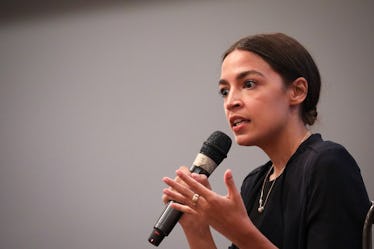 This One Tweet Shows Why Alexandria Ocasio-Cortez Joining Congress Is So Important
Drew Angerer/Getty Images News/Getty Images
The 2018 midterm elections resulted in a lot of change across the nation, such as Democrats reclaiming the House of Representatives and a record number of women joining Congress. Despite these victories, Alexandria Ocasio-Cortez's tweet about being mistaken for an intern proves there's still a lot of work to be done in this political game. The midterms may be over, but these discussions are far from over.
On Tuesday, Nov. 6, 29-year old Alexandria Ocasio-Cortez made history when she secured her bid for the House of Representatives representing New York's 14th District. Not only was her race one of the most publicized of the year, but her win makes her the youngest woman to ever serve in the U.S. House. Clearly Ocasio-Cortez's name should be known all over the nation, but judging from a recent tweet, she's still underestimated by her peers.
On Wednesday, Nov. 14, Ocasio-Cortez took to Twitter to share that she's been getting mistaken for an "intern" or "spouse" instead of a member of Congress while visiting Washington, D.C. for a Congress freshman orientation. Not only does this undervalue Ocasio-Cortez's accomplishments, but it proves that our idea of what a member of Congress looks like — which is often a straight, older, white male — hasn't kept up with reality. As a 29-year old Latina female, Ocasio-Cortez doesn't necessarily fit that stereotype. Furthermore, it's clear that women can still face a huge problem of initially being seen as the "support" of men in politics instead of acknowledged as political players themselves.
While the 2018 midterm elections saw a record number of women and people of color elected to political office, Congress is still very much a (white) old boy's club. According to a Congressional Research Service (CRS) report, the average age of the outgoing 115th Congress was almost 58 for representatives, and nearly 62 for senators. When it comes to gender and racial diversity, it's not great either: women only made up 20 percent of Congress in 2018, according to the Center for American Women and Politics at Rutgers University, while the CRS report points out that people of color only made up about 20 percent of Congress, as the 115th Congress consisted of 9.4 percent African-Americans members, 8.5 percent of Hispanic/Latino members, 3.3 percent of Asian/Island Pacific members, and only two Native-American members.
But things are clearly changing — in 2018, America elected two Muslim congresswomen, an openly gay U.S. governor, two Native-American congresswoman, and the youngest woman in Congress. As the results from the 2018 midterms continue to come in, it's clear that diversity will be clearly showcased in the 116th Congress. Bless.
Ocasio-Cortez first made headlines when she beat out long-standing Democratic candidate Rep. Joe Crowley in New York's June primary election. Since then, the young politician gained momentum by being publicly endorsed by President Barack Obama and running on progressive platforms including climate change initiatives, increasing minimum wage, and free college tuition. Even though her campaign might have made waves, the beginning of her journey was anything but easy. In June, Ocasio-Cortez told Elite Daily during an interview that her campaign started out of a Trader Joe's bag where she would keep handmade flyers.
"I started my campaign out of a Trader Joe's bag with a bunch of printed palm cards and an idea," Ocasio-Cortez told Elite Daily. "I did that for five months."
Never say that hard work doesn't pay off.
It's no secret that politics has been a men's club for decades. It wasn't until 1917 that Jeanette Rankin became the first woman ever to serve in Congress. Since, women have slowly started making their way to these important seats, but come January 2019 a record-number of women will join Congress. Along with Ocasio-Cortez's victory, 98 other women have secured seats in Congress, and that number is only growing. This marks the largest jump of women in Congress in history, with 86 being Democrats and 13 being Republican, making women represent 23 percent of Congress.
In addition to these women joining Congress, Democratic Arizona Rep. Kyrsten Sinema made history on Monday, Nov. 12 when it was announced that she had won a seat on the U.S. Senate, making her the first woman to ever to represent Arizona, as well as the first openly bisexual senator in that chamber.
Do you hear that? It's the sound of change coming.
While some may be calling 2018 the "Year of the Woman Part 2," let's not forget a lot still needs to be done to secure gender equality in politics. Nevertheless, these victories are definitely a step in the right direction. Keep slaying, ladies.