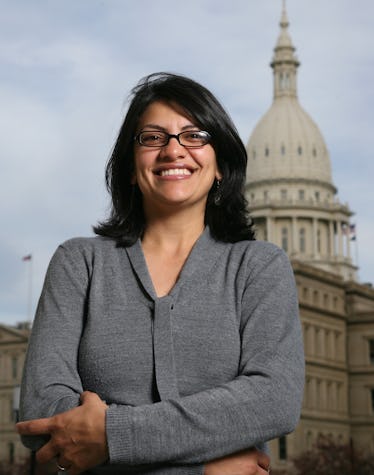 This State Might Have Just Elected The Country's First Muslim Woman In Congress
Al Goldis/AP/Shutterstock
The 2018 election cycle has seen a record number of women running for positions in the House, the Senate, or for governor. But upping the overall percentage of women in government isn't the only record being broken. After the Democratic primaries on Tuesday, August 7, Michigan's 13th District is slated to elect the first-ever Muslim woman to Congress, but who is Rashida Tlaib? She's running unopposed so will probably snag the congressional seat — and make history.
The outcome of Tuesday's primaries left Tlaib with 33.2% of the votes, beating out five other Democratic candidates, according to The New York Times. While she's only won the primary so far, Tlaib will probably run away with the win in November's general election given that she's running unopposed. The only opponent she can face is a "write-in" candidate, which probably won't happen, according to CNN.
In the (likely) event of Tlaib's win, she will be taking the seat of seasoned former Rep. John Conyers, who resigned in December following multiple allegations of sexual harassment, according to Business Insider. Conyers admitted to settling sexual harrassment complaints but denied all allegations of any harassement, according to Slate.
While Tlaib, the daughter of Palestinian immigrants, could make history as the first-ever Muslim woman elected to Congress, she's already passed another goal post when, according to CNN, in 2008 she became the first Muslim woman to serve in Michigan's state legislature, where she served until 2014.
She's also a major opponent of President Trump — in 2016, she was kicked out of a Republican event for heckling then-presidential candidate Trump, per the Detroit Free Press. "We need to be heard ... you cannot stay silent," Tlaib said at the time.
Tlaib has joined other women of color who have been putting their stamp on politics and taking down career politicians. For instance, there's been another politician whose name has been very prominent lately: Alexandria Ocasio-Cortez, who defeated a 20-year political veteran to win New York's 14th District in the State's Democratic primaries back in June. Both Ocasio-Cortez and Tlaib are backed by progressive group Justice for Democrats, according to HuffPost.
Last month, Tlaib's campaign manager, Andy Goddeeris, told CNN that Tlaib is on the same wavelength as Ocasio-Cortez, since they're both progressives that are challenging how the Democratic party has been doing things. Goddeeris said,
Rashida sees a lot of herself in Alexandria Ocasio-Cortez. We feel like we are part of this wave that's coming: unapologetically progressive people who are unafraid of taking on the Democratic establishment.
Though both candidates still have to compete in the general election, Tlaib is well on her way. Though she is ahead of the curve on snagging the congressional seat, she's not the only Muslim woman running this cycle. In fact, she wasn't even the only Muslim woman running in Michigan. Democratic candidate Fayrouz Saad ran for Michigan's 11th District, but lost the primary.
The Trump administration hasn't had the best rapport with the Muslim community. For example, during his first year in office, Trump instituted a travel ban that targeted Muslim-majority countries, banning many immigrants from countries like Syria, Iran, and Libya. In fact, the administration hasn't been too friendly to immigrants in general, with policies like the zero-tolerance immigration policy, which led to the separation of thousands of migrant children from their families at the U.S.'s southwest border. The policy required all adults crossing the border outside a checkpoint without documentation to be prosecuted, meaning that they would be separated from any children they were with as the children could not go through the adult criminal justice system.
Tlaib and female politicians like continue to rise through the ranks and make history. With their dedication to challenging the establishment and speaking up for their communities we might see a very different political climate come January.