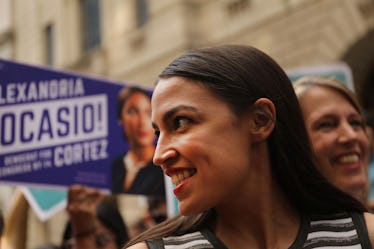 A Politician Called Alexandria Ocasio-Cortez "This Girl" & Her Clapback Was Epic
Spencer Platt/Getty Images News/Getty Images
If you've been following the primary election results ahead of this year's pivotal midterm elections, chances are you've heard the name Alexandria Ocasio-Cortez. The young Democrat is a first-time candidate running for a House seat in her home state of New York, who recently won her party's primary race on June 26. The 28-year-old's relative inexperience and politics might not rub other politicians the right way, but that won't stop her from standing up for herself in the most epic of ways. Alexandria Ocasio-Cortez's response to Ron DeSantis' "this girl" comment is a burn for the ages, and it makes me respect her even more than I already do.
Florida Congressman Ron DeSantis, who's running for governor in his state on the Republican ticket, was speaking at a campaign event in Orange Park, Florida on July 21, when he decided to attack Ocasio-Cortez on her politics. Ocasio-Cortez, a Democratic Socialist, is currently running on the Democratic ticket to represent New York's 14th District, which covers parts of the Bronx and Queens, in the U.S. House of Representatives which are very much progressive. "You look at this girl Ocasio-Cortez or whatever she is, I mean, she's in a totally different universe," he said. "It's basically socialism wrapped in ignorance."
"This girl?" "Whatever she is?" What she is is an adult woman, a politician, and clearly over this kind of dismissive talk about her.
It doesn't exactly make sense why Ocasio-Cortez was even mentioned by DeSantis, as she doesn't have a direct connection to Florida's gubernatorial race. But when she got wind of this video, Ocasio-Cortez decided to clap back on Twitter on July 23, calling out DeSantis for belittling her. She tweeted,
Rep DeSantis, it seems you're confused as to "whatever I am." I am a Puerto Rican woman. It's strange you don't know what that is, given that ~75,000 Puerto Ricans have relocated to Florida in the 10 mos since María. But I'm sure these new FL voters appreciate your comments!
This response is amazing for so many reasons, and I'm gonna break it down for you. Number one: Ocasio-Cortez is not just a "girl" — she's a 28-year-old woman and it's fair for her to want to be acknowledged as such instead of treated as a child. Number two: she proudly identifies as a Puerto Rican, and not only that, but also expertly points out the significant amount of Puerto Ricans that have moved to Florida after enduring the devastation of Hurricane Maria back in September 2017.
According to data company Teralytics, from October 2017 to February 2018 about 150,000 Puerto Ricans moved to Florida, likely due to the damage that Hurricane Maria caused. The Puerto Ricans that haven't returned to the island are now residents of Florida, and as U.S. citizens they have the legal right to vote. And it follows that some might take offense to DeSantis' insulting comments about a Puerto Rican woman and decide to take their vote elsewhere. It's definitely not a possibility to rule out, and if I were DeSantis I might be regretting my words a little bit right now.
Ocasio-Cortez is definitely causing a commotion in the political world, mainly because in her primary race she edged out ten-term incumbent Rep. Joseph Crowley (D-New York) in her first ever attempt at running for office. She won by a huge 15 percent margin, which is an indicator that the constituent body in New York's 14th District is ready to see change in Washington.
Ocasio-Cortez's win in the Democratic primary is definitely noteworthy, but there's absolutely no reason for DeSantis to diminish her potential as a politician and who she is as a person. But rather than go back on the attack, Ocasio-Cortez knew exactly what to say and stand up for herself. Bravo, Ocasio-Cortez, bravo.