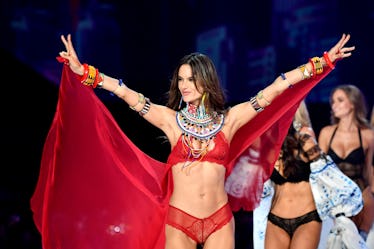 10 Butt Workouts From Alessandra Ambrosio's Routine That'll Leave You Feeling Sore For Days
Frazer Harrison/Getty Images Entertainment/Getty Images
I'm pretty sure I'm in the minority when I say that I absolutely love leg day. I adore the sweat-infused, feel-good endorphins that a challenging, glutes-intensive workout brings, and I don't even mind the inevitable, cringeworthy booty soreness that ensues. Since I'm always on the lookout for new ways to spice up my routine, and I basically worship the Victoria's Secret angels, looking into Alessandra Ambrosio's workout was basically a no-brainer for me.
TBH, I have so much respect for how hard all of the Victoria's Secret angels work to get ready for their annual fashion show. Many of them have revealed that they never skip a day in the gym, and they're always finding new ways to challenge their bodies and build their strength.
Alessandra Ambrosio is no exception, telling Glamour that "it's important to break a sweat every day." Hell to the yes, girl. While Ambrosio is all about working her muscles from head to toe, she specifically has a myriad of killer booty-sculptors up her sleeve. Her trainers know exactly what moves will target which leg muscles, and they know how to make you feel the freaking burn.
So, whether you're bored of your standard booty workouts like I am, or you simply want to see how sweating like a Victoria's Secret angel really feels, here are 10 Ambrosio-approved booty-blasters that will redefine the phrase "hurts so good."