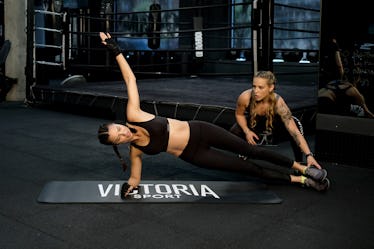 5 Workouts From Adriana Lima You Need To Try When The Weather Gets Cold
Dimitrios Kambouris/Getty Images Entertainment/Getty Images
The Victoria's Secret Fashion Show is basically like the Super Bowl of the fashion world, and I get pumped as hell to watch it every year. While I will never fully understand how the lovely VS angels prep for the big day, reading about their insane workout routines and healthy eating habits is still super intriguing. Like, you know if you had access to Adriana Lima's workout, you'd be headed to the gym to make some angelic #gains ASAP.
Personally, Lima is my favorite angel (everyone has one, right?), because she's super badass, she's exotic, and her kids are irresistibly adorable. On that note, the fact that she's a mom and still absolutely slaying the Victoria's Secret runway each year is inspirational AF.
On the real, though, working out like Lima is a great way to spice up a monotonous workout routine, especially when the temperatures drop and all motivation to hit the gym disappears in an instant.
Honestly, I thought that Lima's workout routine was going to be a lot more difficult than she claims it is, but this model's go-to moves are surprisingly pretty freaking simple, and super easy to incorporate into your own routine whether you're at the gym, in your room, or even on the move.
So, when it starts to get chilly out and all you want to do is turn yourself into a blanket burrito and hibernate for seven years, try these five workouts from Adriana Lima to get your ass out of bed and totally immersed in a quality sweat sesh.