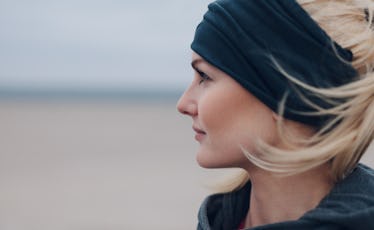 5 Ways To Stay Motivated When Working Out, Especially As The Days Get Shorter & Shorter
It can be super easy to fall off the fitness wagon and forget about all of your goals, especially when winter rolls around. TBH, it's cold as all hell, and most days, there's no freaking way I'm emerging from my blanket burrito to squeeze in my scheduled sweat sesh. But after a few missed workouts, you'll most likely start to miss the gym grind and all the feel-good endorphins it promises you each time you go. It can be hard to find ways to stay motivated when working out, but there's no doubt that it's absolutely key after falling into that sweat-less slump.
Knowing what motivates you to move your bod is so essential, particularly when it starts getting dark at like, 4 p.m. — ugh. That extra hour of sleep we all got for daylight savings time was lit for about a day, but now, it's just disappointing AF when you look out your window before you've even had a chance to prepare dinner, and it somehow looks like it's actually midnight outside.
The lack of sunlight can hurt your motivation to do basically anything. In fact, after the clocks fall back, the early darkness actually confuses your body and tricks it into thinking bedtime is literally right around the corner, when in reality, it's still several hours away. Plus, cold temperatures actually force your body to use energy to stay warm, leaving you feeling totally drained when it comes time for anything fitness-related.
So, if you're feeling super discouraged by the change of seasons, you're definitely not alone. But there are still ways to maintain motivation in the thick of it all. Here are five ways you can keep your motivation levels high whenever you fall into a fitness funk, but especially during the aggressively short days that have settled in upon us.